Posted by: Adam Mason on December 14th, 2011
The author's views are entirely his or her own and may not reflect the views of the Utah Jazz.
Alec Burks is going to shock the NBA world. Many in Utah were hoping for Jimmer to come here, but the Jazz got a steal with the 12th pick for Burks.
Alec Burks has got everything you want in a shooting guard. Speed, body control, athleticism, ability to finish around the rim, etc. One could say that Ronnie Brewer had that all as well, but no outside shot and Burks had a terrible season shooting last year in college from the three. Shot a dismal  30% from the three in college.
That's correct 30%, but Burks has got a stroke. If you watched him play college ball at all you know he's got the stroke and just some fine-tuning would probably help. Just watch some of his highlights from college.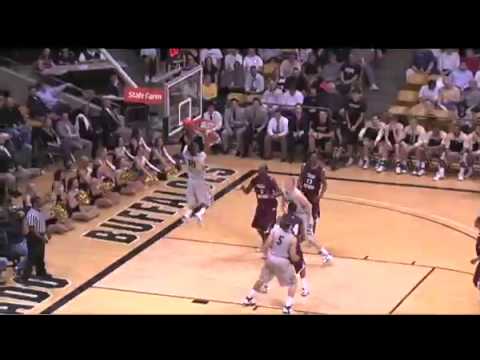 According to a report from hoopsworld.com back in May he started working with Chauncey Billups on his three point shot.
And apparently the work has paid off a bit, at least according to Billups. He said that Burks was a "Corner Pimp". Sounds like a very interesting title, but we won't get into that. Billups acknowledged that he is money from the baseline three. Burks has said he knows it's a weakness and he has been working on just that.
He is a natural scorer. Once again just check out the video if you still doubt. According to David Locke on his twitter account during the first couple days of camp, many were saying "he is a scorer in many ways. He will score in this league." He said after day 2 many people mentioned his scoring aptitude and variety. He also tweeted that Ty Corbin said the three biggest surprises thus far is Burks' ranginess, Favors strength and quickness, and Al Jefferson physical shape.
John Hollinger wrote an article for ESPN Insider called Player Profiles: Utah Jazz. Hollinger gave him quite a good review. He said that he is a smooth scorer and can get to the rim and score. Also mentioned that he is one of the few players outside the top 5 of this years draft he can see making the All-Star game. Only concern he had was his outside shot, which he has been working on.
With that ability to get to the rim he can easily get to the free throw line. In college he went to the free throw line almost eight times a game. He also shot over 82% from the line, which obviously is a solid way to get yourself points.
So we covered the scoring what about the other facets to the game.  Hollinger talked about how good his ball handling is and he could even play the 1 occasionally if needed. Locke tweeted that Burks' passing skills has been highlighted at camp and that at least once a session he is wowing people with his passing. Burks has a lot in his game and has tons of potential to get even better.
He has weaknesses and things he can continue to work on. His defense both on the ball and off the ball can get better. He added some muscle, but adding a bit more weight while maintaining his agility would be huge.
Just some food for thought for Jazz fans. We are all excited that another Jazz season is upon us and we are all looking forward to how this team comes together. One single player, however, that I am keeping my eye on is Alec Burks as he will surprise a lot of people with his b-ball ability. Go Jazz!
Replies: 7
Views: 1241
7 Responses
Leave a Reply
You must be logged in to post a comment.