Posted by: Adam Mason on July 15th, 2010
The author's views are entirely his or her own and may not reflect the views of the Utah Jazz.
Ok with all that's been said about the moves that the Jazz are making, I don't think I really could add too much. It's exciting and means the Jazz will still be competitive, which is exciting.
So I thought I would go with a little bit different of a subject. We all know that Lebron had his "Decision" show (which Steve Carrell and Paul Rudd's spoof was hilarious by the way) and indicated he was joining Wade and Bosh. Can you really blame the guy?
Here he was in Cleveland for 7 seasons carrying the team into heights the franchise had not really ever seen. It was Lebron carrying them and there was no doubt about that. Check out this game in the 07 Eastern Conference Finals game against Detroit if you haven't already checked it out.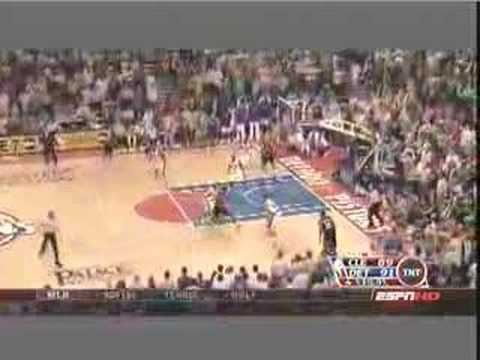 Lebron has won the MVP the past two seasons and guided his team to the best record in the league those two years. He did so with Anthony Parker? Anderson Varejao? A broken down Shaq? J.J. Hickson? A decent point guard in Mo Williams, etc. He needed to be the man every single night and I'm sure it's gotta be physically taxing on the guy. Without him his team just might struggle to even be .500 next year.
Having said that though, Lebron no doubt backed away from that challenge. He didn't believe he could be THE centerpiece in a title team. He couldn't, however, turn down the opportunity to play with D-Wade and Bosh and to be honest that would be a hard situation to walk away from. The way he did it was a little classless as he really just gave Cav fans a false sense of hope, but he had every right to leave. Also I do not believe that Lebron is everything that the sad owner in Dan Gilbert said he was.
This is my only complaint about Lebron: If he wins a championship, even multiple ones, with his buddies, he'll no doubt go down as a great player, possibly even one of the greats. ESPN analysts said he would be a Magic Johnson or Larry Bird type player and leader with the Heat and I would even tend to agree with that. However, he destroyed all possibilities of chasing Michael.
Kobe is chasing Michael and everyone says Kobe has Pau Gasol, but there's no doubt that Gasol wasn't one of the greatest PF's in today's game until he teamed up with Kobe. Just as Scottie Pippen was good and solid, but MJ made him great. Kobe has/had players in Fisher, Lamar Odom, Ron Artest or Trevor Ariza, and Bynum. He has/had Shannon Brown coming off the bench, Jordan Farmar, and Sasha Vujacic. None of those players will probably ever make the Hall of Fame.
Michael Jordan had his buddy in Scottie Pippen. He also had players in John Paxson, Ron Harper, Steve Kerr, Horace Grant, Toni Kukoc, Luc Longely, Bill Wennington, Will Perdue, a good fit player in Dennis Rodman, etc. He elevated those guys' games and they were nothing without him. Just teams filled with great role players and MJ helped lift their game. Jordan, most of the time, had to be the man and he took on that challenge. In the  93 Finals against Phoenix he averaged 41.0 ppg. Jordan never had someone as great as himself. Lebron possibly has that in Wade and teamed up with two already great players and quite possible future hall of famers in Wade and Bosh. Heck, even Wade (even if he doesn't believe it), has taken on the challenge of doing it himself when he put the Heat on his back and won a championship in 2006.
Lebron didn't tarnish his legacy and my personal belief is he will end up being one of the greatest NBA players to have ever played. I just believe he walked away from being the GREATEST NBA player to ever play the game. As you watch that game against the Pistons, you know he has it in himself to do such things. While I don't think anyone could really ever surpass MJ (not even Kobe), I thought Lebron had the best shot. Cheer and boo against him because he is the enemy when he plays us, but don't boo his decision. Be honest with yourself, if you had the opportunity to play with players like D-Wade and Bosh, you would always wonder what it would have been like if you did walk away from that, especially if you never won a championship.
Lebron did what was best for himself and probably did set himself up to build a dynasty in Miami with Wade and Bosh. He'll be great, no doubt, but could he have ever surpassed Michael? Well now we'll never know.
Replies: 15
Views: 956
15 Responses
Leave a Reply
You must be logged in to post a comment.