Posted by: Andy Larsen on January 10th, 2011
The author's views are entirely his or her own and may not reflect the views of the Utah Jazz.
Giving up huge amounts of offensive rebounds to the opposition has been a problem for the Jazz. Exactly who, or what, is at fault for these errors? We currently give up the 4th most Offensive Rebounds in the NBA, behind Golden State, Phoenix, and Washington, teams that play at a much higher pace than Utah does. I wanted to take a look at some recent games and discover why this is happening, especially given that the Jazz have been a good-to-great rebounding team in the past.
In order to do this, I used Synergy Sports Technology to look at recent games. Synergy allows you to break down each game by type of possession, and then displays video of whichever type of possession you would like to see. This time, it was offensive rebounds by the opposing team. I only looked at offensive rebounds that did not result in a reset of the offensive set. This is for two reasons:
1. Offensive rebounds that result in a reset of the possession tend to be long rebounds, and who gets long rebounds is fairly dependent on luck. If the ball clangs off the rim directly to an offensive player, there's not much the defensive team can do to prevent that.
2. Synergy doesn't sort the reset possessions into the "Offensive Rebound" category.
Let's start with last night's Rockets/Jazz game, which was a reasonably good rebounding performance; we gave up 11 offensive rebounds in the game. This video contains 8 offensive rebounds by the Rockets.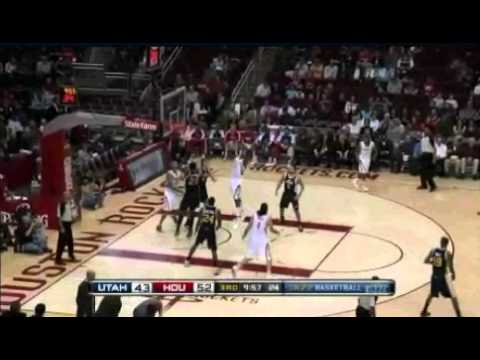 1. CJ Miles just drops the easy rebound, it goes right to Kyle Lowry who misses the jumper at the buzzer.
2. Ronnie Price completely forgets to box Courtney Lee out, Lee gets the easy putback jam. Price is completely at fault here.
3. Earl Watson loses a fight for the ball, which goes right to Chase Budinger. Budinger's layup is blocked by AK.
4. Earl Watson pushes Miller on the dunk, he misses it, but Lowry gets the rebound since Watson has committed to Miller, and Lowry gets fouled.
5. Al chooses to help Millsap with Scola, but then doesn't find Jordan Hill once the shot is missed. Hill tips the ball back to Scola (who Millsap should have been boxing out), who makes the layup.
6. Hill gets the ball open down low, but his layup is blocked by Al. This leaves Hill an easy pickup of the ball (the offensive rebound), but is then again blocked by Millsap.
7. Andrei goes to contest Smith's shot, which means no one is boxing out Scola for the easy rebound. He then gets fouled.
8. Scola pushes Millsap away, then gets off a layup which is blocked by Al. Again, Scola gets the easy rebound and makes the putback.
Really, only 3 of those rebounds are due to an individual mistake (1,2,5). Rebound 3 is due to luck, and the rest are because the player responsible for the box-out was contesting the original shot. It was an average-to-good defensive rebounding performance, all-in-all. It also shows the difference between Millsap/Jefferson and Boozer/Okur: The former pair go for the block much more often, leaving them susceptible to offensive rebounds. Boozer and Okur have very poor shotblocking totals, but better rebounding numbers because they concentrate on that first.
On the other hand, sometimes our rebounding woes have been caused by a poor rebounding effort. While I don't have video of some of our worst rebounding moments – allowing Golden State 21 offensive rebounds was not a good moment for the franchise – we can see an example of this here: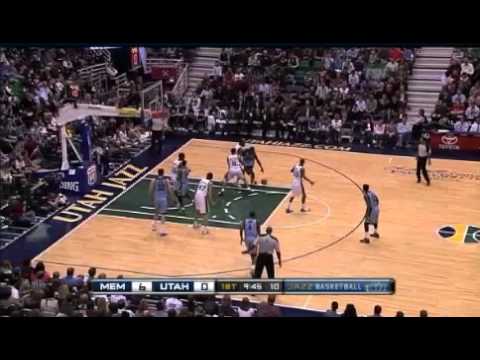 On this play, don't watch the ball, watch Al Jefferson. He seems to want to come and help, but ends up in no man's land in the paint. While he has his man 1 foot behind him, he fails to box out or do anything, and allows an offensive rebound. He then has a further opportunity to rebound a second shot, but again, takes a step towards the shooter before boxing out no one. This kind of defensive rebounding will, and has, gotten the Jazz in trouble.
In this situation, Jefferson needs to realize that he's not close enough to the offensive player with the ball to change his shot, that his teammates have it covered. Therefore, he needs to guard his man, and most importantly, create space for the defensive rebound after the shot. What ends up happening all too often is that instead of creating that space, the defensive rebounder just waits for the ball to come down, while the offensive player has a chance to either tip or grab the ball first. It is perhaps not a coincidence that Al had only 4 rebounds in this game.
I'll try to do more of these video-intensive posts as the season progresses. I'll also be able to do a more in-depth analysis of rebounding as Synergy adds more video clips.
Replies: 7
Views: 974
7 Responses
Leave a Reply
You must be logged in to post a comment.