Posted by: David J. Smith on July 28th, 2010
The author's views are entirely his or her own and may not reflect the views of the Utah Jazz.
As was the case ten years ago, Karl Malone has been in the news this week (After all, we just threw another parade to celebrate his June 24th birthday…).  I think many were naturally surprised when the Mailman selected Willis Reed to introduce him into the Hall of Fame next month, instead of one Mr. John Stockton or a certain HOF coach in Jerry Sloan.  But I admire his decision, selecting a childhood hero.  He did what he felt was right for him.  Let me add that to the growing list of reasons I love Karl Malone.
With this in mind, I present to you 32 reasons why the Mailman will always have a place in my heart:
1: He was half of one of the best tandems in sports history, let alone basketball.  There will never been anything to rival Stockton to Malone.  Agreed?  Good.
2: Karl was always his own person.  Make fun all you want about his referring to himself in the third person, or his bouts in the ring, or his big rigs, and so on and so on.  Really, how can you not respect someone who is who he is…in front of millions of people?
3: As Larry H. Miller would say, "they broke the mold when they made Karl Malone (and John Stockton)."  Missing a mere 10 games in 18 seasons while playing through countless injuries.  55,000 minutes played.  Current NBA players could stand to study up on the recent past's greats. 
4: Malone was and is fiercely loyal.  He stuck with Jerry Sloan through thick and thin.  He had his spats with LHM, but was with him at his bedside during those last days.  He always had Stock's back (note one dark night versus Detroit).  He was as dependable and trustworthy a teammate as one could find. 
5: One of the most underrated aspects of his game: his passing.  Everyone talks about Webber, Divac, and Barkley as slick dishing big men.  Where's Karl in these conversations?  5,248 career dimes for an average of 3.6 per.  Pretty impressive.
6: As the second leading scorer in the game's history, I can think of 36,928 more reasons the Mailman delivered.   
7: It was amazingly valuable to have someone who could get to the line at will.  Teams that have one (or two) such players always go far.  That greatly aided  what became standard 50+ win seasons
8: The way Karl fit into the fabric of Utah won the hearts of his fans.  I wonder if any group of fans embraces players who embrace the community as much as Jazz followers.  As we saw last week, he still makes his presence known in the Wasatch Front. 
9: As proof that the All-Star balloting is a sham, Karl and his 31 ppg lost out on a starting roster spot to the illustrious AC Green.  How did he respond?  61 points and 18 caroms in 33 exhilarating minutes.  I remember watching that game feeling nothing but pity for the Milwaukee Bucks…before the game even started.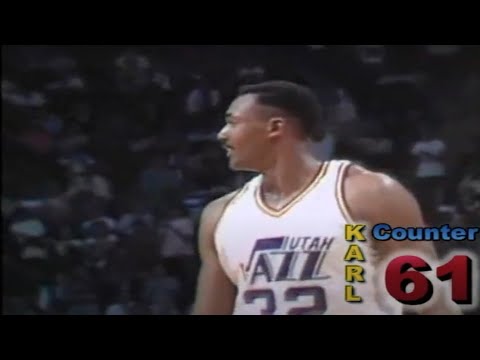 (ignore the annoying intro)
10: The Mailman put in the work needed to fix aspects of his game.  His much chronicled woes at the charity stripe epitomize this perseverance.  Ditto with his jump shot, passing, and defense.
11: It was always great when he stripped the ball from an opposing big man.  Always led to something good and frightened the daylights out of these poor big men. 
12: What boy did not imitate (on the seven-foot hoops) the trademark Karl dunk…you know, where he put his hand on the back of his head.  Don't deny it…you did it. 
13: Two-time MVP.  Bill Simmons can say whatever he wants about the 1997 MVP award (those who have read the Book of Basketball know exactly what I am talking about), but it was well-deserved.  Ditto on the 1999 award. 
14: Winning two All-Star MVPs, the latter in from of the hometown Delta Center crowd and alongside #12.  Along with that, his 14 appearances in the midseason event are amazing. 
15: His nickname.  One of the best monikers of all-time.
16: Karl's longevity.  Were we ever pampered to be able to watch true greatness for nearly two decades?  See reason #1 and multiply that by 18 years. 
17: The acts of kindness rendered, both seen and unseen, shows his character.  Yes, he had some baggage off the court, but he made great efforts to help others.  He befriended young cancer patients, signed autographs for countless fans (including me), volunteered around SLC, and was known to hand out large bills to those down on their luck.  He is a big man with a big heart. 
18: The way he took care of himself.  This was a huge reason why he was able to be a true ironman.  He still looks like he could play 20 mpg at age 47. 
19: The Mailman was never afraid to say what needed to be said to teammates and coaches.  He did not mince words when trying to light a fire under someone (yes, I'm referring to you Greg Ostertag).
20: John and Karl were part of the greatest teams we've seen in sports, the Dream Teams of 1992 and 1996.  He should've also been on the 1984 squad and I think his snub was a motivation to him (and Stockton).  Thank goodness for that.    
21: His passion was contagious.  Here was our leading scorer diving on the floor, digging out loose balls, and giving it his all every game.   I call that leading by example.   
22: He was recipient of two of the most memorable passes in Jazz lore: the awkward one that secured Stock's place as the all-time assist man and "the Pass" in the NBA Finals.  The latter was a priceless pass, but it was also a remarkable catch.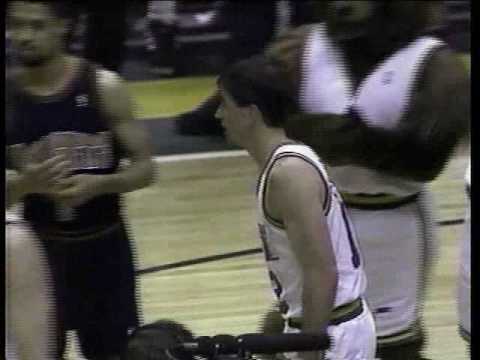 23: He had some fun battles with specific individuals…Charles Barkley, Chris Webber, and Shawn Kemp.  Pre-Duncan David Robinson was petrified of him. 
24: He also helped other lesser players show their true characters: Derrick Coleman, Larry Johnson, and Dennis Rodman.  Boy, did he get under their skin or what? 
25: No one ran the floor like Malone.  How many times did he snatch a rebound, outlet it to John, and then beat everyone down the court for the dunk? 
26: The ultimate "roll" in the ultimate pick and roll…one for the ages.
27: One of my earliest basketball memories was watching the fantastic 1988 series vs. the Lakers, where the upstart Utah Jazz pushed the defending champions to the brink of elimination.  Karl was an absolute stud in that series, especially in the game six blowout.  That put him—and the Jazz—on the NBA map.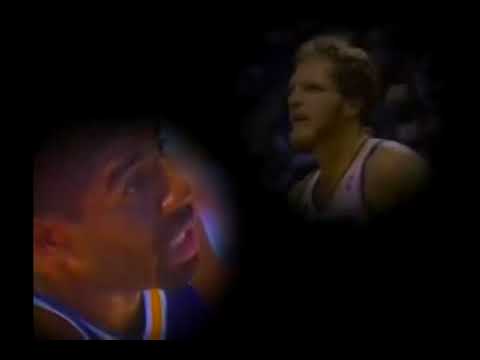 28: Another Bill Simmons favorite…the draft day outfit.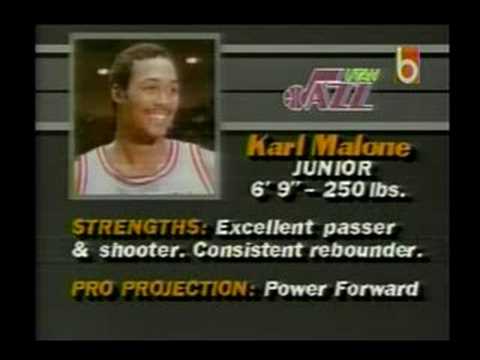 29: We will never forget two bear hugs the Mailman delivered, the one he shared with John and Jeff after the hallmark moment in Jazz history…and the one he gave Clyde Drexler to free up Stock.  An absolutely legal bear hug at that.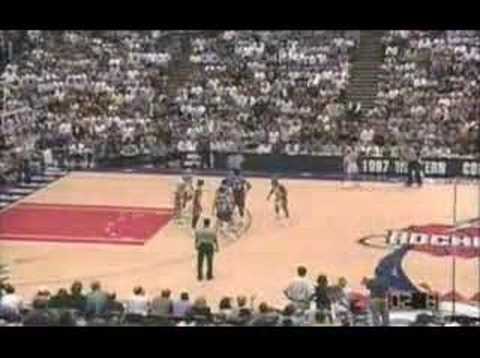 30: I never saw this, but I'm sure some remember the promos for Karl's film debut, playing the role of Elijah Abel in the local movie Rockwell.  Looked like a prize-winner.
31: His emotional speech at John Stockton's retirement ceremony.  Real men cry.
32: Many greats wore this number—Magic, McHale, Shaq, and Kidd—but there's only one #32 in my book…
Am I missing any reasons?  Let us hear yours!
Replies: 21
Views: 4588
21 Responses
Leave a Reply
You must be logged in to post a comment.