Posted by: David J. Smith on October 26th, 2011
The author's views are entirely his or her own and may not reflect the views of the Utah Jazz.
Othyus Jeffers' Utah Jazz career lasted just 14 official NBA games (2.6 ppg and 1.2 rpg in 5.2 mpg), but it was enough to make him a fan favorite. First, he had a life story that seemed unbelievably challenging and inspiring. Like many others, his road to the NBA was an uphill battle, but he made it to the big show and it sure looks like he's here to stay. Second, he fit the prototypical blue collar style Jazz fans are drawn to—endless hustle, willing to work and battle, laying it out there each second. He did so as he finished the 2009-10 season here, gave it his all during the summer league and preseason and was, by some accounts, perhaps the final cut for the 2010-11 Jazz roster.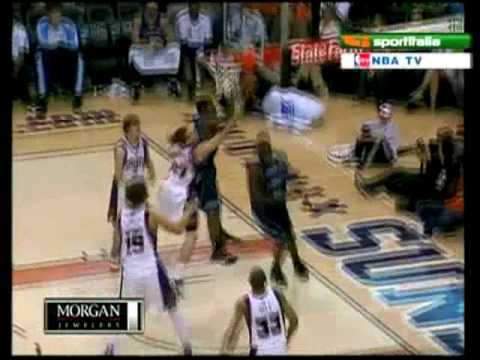 Now, after more time in the D-League and a cameo with the Spurs, he's getting a great opportunity to show what he can do, finishing up last season with the Washington Wizards (5.7 ppg, 4.1 rpg, and 1.1 spg). Supposing an NBA season materializes, he'll be given every chance to be a rotational player for the Wiz. He added toughness, energy, and defense to a young team searching for an identity. A team like that needs a glue guy like Jeffers.
Othyus recently joined Twitter (@OthyusTheGreat) and he continued to show us why we are pulling for him by reaching out to his fans and interacting with them in this forum. He's been so accommodating in answering questions, doing so sincerely. And when I asked him if he'd be willing to be part of Twitter interview, he was excited to do so.
Honestly, how can you not root for someone like Jeffers?
So, Tuesday evening, that is exactly what we did. I hope this gives you insight into one Othyus Jeffers, a class act on and off the floor.
davidjsmith1232: Thank you @OthyusTheGreat for being willing to do a Twitter interview! I'm willing and ready whenever you are.
OthyusTheGreat: @davidjsmith I'm ready!
davidjsmith1232: Wonderful! Othyus, you have experienced so much in life. How have your experiences helped shape you on and off the court?
OthyusTheGreat: They made me stronger, also they helped me with an extra layer of skin. Most of all they kept me grounded! Thanks for having me by the way.
davidjsmith1232: My absolute pleasure! How have your varied b'ball locales—comm. coll. to NAIA to D-League to NBA lent to your perspective?
OthyusTheGreat: Each step brought me closer to achieving and becoming a true professional! I wouldn't alter one part because they taught me how to adjust.
davidjsmith1232: I bet they did. What was your initial reaction to the call-up by the Utah Jazz two seasons ago?
OthyusTheGreat: It was awesome! I was very blessed to get called up and begin my career with a classy and professional team. The Jazz and fans are great!
davidjsmith1232: And we sure love our former Jazz players! What was it like playing for a Hall of Fame coach in Jerry Sloan?
OthyusTheGreat: It was a honor and I felt it was an upside for me to play for the Great Coach Sloan. He demanded respect, hard work, and professionalism
davidjsmith1232: He's the dean of coaches! You've played with 2 elite PGs in D-Will and J.Wall. What are your thoughts on them & their styles?
OthyusTheGreat: D.W is your traditional p.g. with today's style and grace, while J.W is today's young flair athletic p.g. Both can shoot and drive!
davidjsmith1232: Agreed! Do you stay in touch w/ former Jazz teammates like Deron? With whom did you bond the most while in Utah?
OthyusTheGreat: Yes I do! D-Will, R.Price, C.J. Miles, C.Booz, S.Gaines, W.Matthews. We stay in touch in some form or fashion. I learned a lot from them.
davidjsmith1232: That's a great group! Who is the toughest opponent you've had the chance to guard thus far in your young NBA career?
OthyusTheGreat: Jamal Crawford! He plays free the whole game with no limitations from his team. He can shoot, drive and has tremendous handles.
davidjsmith1232: Crawford's a stellar player! What has been the best basketball experience you've had in the NBA or at any level?
OthyusTheGreat: Was when I entered my first NBA game with the Jazz and everyone stood and clapped! Then the arena got louder as I rebounded then scored lol.
davidjsmith1232: I remember! We loved your constant hustle, tenacity & effort. What have you been working on during this (long) offseason?
OthyusTheGreat: Getting in the best shape ever! Work on my weaknesses and turn them to game changing plays. Also understanding the playbook and my niches.
davidjsmith1232: Fantastic! One great skill you have is the ability to hit the boards. How do you do it so well, esp. vs. taller guys?
OthyusTheGreat: For me it's easy! I gain position, focus on the basketball and beat everyone else to it. Most of all it's just all out effort!
davidjsmith1232: Plus it helps to have your heart and strength! What are your goals this season and long-term for your NBA career?
OthyusTheGreat: I'm ready to help the team win games! Whatever I'm called for, do it to the best of my abilities and give my all then leave my stamp each game
davidjsmith1232: We have faith that you can do all those things. Last question: what is Othyus like off the court? What do you enjoy doing?
OthyusTheGreat: I'm a chill and relaxed person with a huge play side. I like going to Chicago museums, r/c cars, zoos, classic muscle cars and dogs
davidjsmith1232: That is wonderful. Thank you so much for taking the time to do this tonight! You have many fans in Utah that are rooting…
davidjsmith1232: …for your continued success and perhaps a return to the Jazz someday! Anything else you want to say to Jazz (& bball) fans?
OthyusTheGreat: Thank you so much! It was a pleasure.
davidjsmith1232: You are as classy an act as there is in the NBA.
And that is the absolute truth. For an NBA player to take 90 minutes of his day to spend time answering questions through a social media outlet like Twitter is amazing. During a time where there is so many ill feelings toward the NBA, a player so positive, genuine, and open to his fans is a huge breath of fresh air. So, again, many thanks to Jeffers for doing this. Here's to a long, successful NBA career!
[Feel free to follow me on Twitter @davidjsmith1232]
Replies: 9
Views: 1543
9 Responses
Leave a Reply
You must be logged in to post a comment.