Posted by: David J. Smith on November 18th, 2012
The author's views are entirely his or her own and may not reflect the views of the Utah Jazz.
Last night, NBA columnist and analyst Sam Amico tweeted out the following:
"Word around NBA is Jazz G Alec Burks is available. Burks, the 12th overall draft pick in 2011, has played in just 5 of Jazz's 10 games."
I cannot comment too much on Amico's reputation or track record, but I personally think it is just a passing rumor. It would not make sense for the Jazz to give up on a talented guy like this so early in his career, especially after Burks had a decent, sometimes very impressive, rookie campaign. They did cut strings quickly, however, with other first-round draft picks Sasha Pavlovic, Morris Almond, Curtis Borchardt, Raul Lopez, Kirk Snyder, Kris Humphries, and Eric Murdock–none of whom had as much talent as Burks has already shown.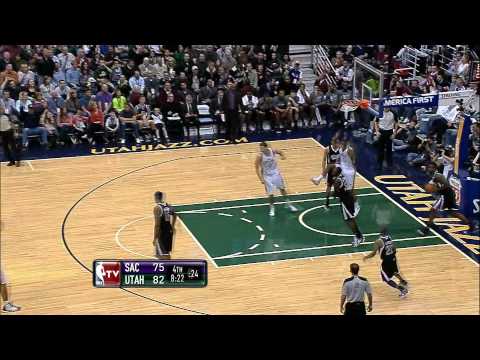 Regardless, count me as a Burks fan. We've seen glimpses of what he can do: slash, get to the free throw, make some stellar passes, shoot a bit too early, rebound well for a guard, operate outside the offense, and handle the ball. I think he oozes with potential and am hopeful he gets the chance to display his game soon–here in Utah. He does indeed need to perform better than he has in the time he's had this season. I agree with David Locke: he will get his chance to excel here, this season.
Here is my Deseret News instant analysis for the Jazz win over the Wizards. It definitely was an ugly game, but with the way things have gone on the road thus far, we'll take a win regardless how it is packaged.
My article talks a bit about the rotational changes. I personally like Gordon Hayward in the starting line-up, but his stats last year and last night show that he can really excel as the focal point of the offense. He often defers to Jefferson and Millsap, and now Mo Williams, in the starting line-up, but off the bench, he is the guy. I've been among Hayward' s biggest supporters and think he has the tools to be great–either off the bench or as a starter…as long as he finishes games.
Other quick hits:
Congratulations to former Jazzman Josh Howard on signing with Minnesota. This is good because (a) he is going to a good situation–a team on the rise that has experienced a ton of injuries. He will get playing time immediately, and (b) it precludes him from joining the Jazz this season. Howard a good citizen for us and in a way, jump started a declining career, but he just did not fit our offensive style, in my opinion.
The Wizards have to be one of the most unfulfilling teams to watch. I'm interested to see them play with their full line-up of Wall, Nene, Okafor, Ariza, Beal, etc., but I just don't see them doing much anytime soon.
Replies: 29
Views: 2902
29 Responses
Leave a Reply
You must be logged in to post a comment.