Posted by: David J. Smith on April 13th, 2012
The author's views are entirely his or her own and may not reflect the views of the Utah Jazz.
I'll admit that things don't look that great tonight. First, we had the demoralizing loss in New Orleans. That obviously hurts our postseason aspirations, but doesn't kill them. Here are my Deseret News Report Card and Instant Analysis articles from this evening.
Second, teams like New Jersey and Toronto upset their opponents Philadelphia and Boston. So, that hurts our chances at Golden State's pick. Fortunately, Detroit and Cleveland both suffered defeats.
In the throes of frustration and despair, I decided to take a closer look at the schedules for those "competing" with Golden State, as least as far as Utah Jazz fans are concerned. Just for kicks and because I can do so (it's a blog, after all), I'm going to predict how each team's remaining games play out.
Here are the current standings after tonight's games. I think we can agree that the following are pretty locked into the bottom five slots:
(1) Charlotte Bobcats
(2) Washington Wizards
(3) New Orleans Hornets (which makes the two losses there even worse)
(4) Sacramento Kings
(5) Cleveland Cavaliers
As an aside, our hearts go out to these teams' fans, especially Sacramento. They are some of the best fans in the NBA and what has transpired the past two days is undeserved. I want nothing more than the Kings to remain in Sacramento. They are passionate and were part of one of the great moments in Jazz history: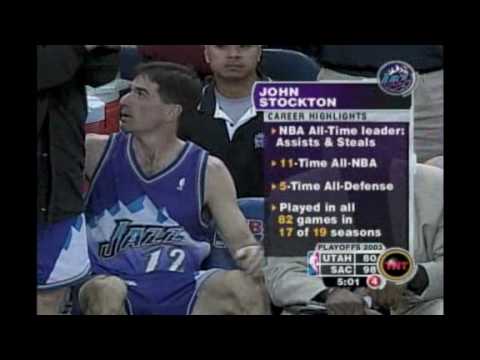 But I digress…
Now, there are five teams that are close: Detroit Pistons, Golden State Warriors, Minnesota Timberwolves, New Jersey Nets, and Toronto Raptors. Here are their schedules:
Golden State Warriors:  HOME- SA, LAL, NO, SA; ROAD- LAC, DAL, HOU, MINN.
Prediction: They lose all the games, except NOLA. David Lee's groin injury could really contribute to their tremendous tanking job, but I think they pull out that one game at home. Who knows if San Antonio decides to rest their guys again in the last game of the season. That has them finishing 1-7.
FINAL RECORD: 23-43
New Jersey Nets: HOME- BOS, MIA, NYK, PHIL; ROAD- MIL, TOR
Prediction: They have the toughest schedule left and I can see them losing all of them. All the home games are difficult. Milwaukee is playing for their playoff lives and I'll give Toronto the edge at home. So, here, they finish 0-6.
FINAL RECORD: 22-44
Minnesota Timberwolves: HOME- OKC, MEM, GS, DEN; ROAD- IND, DET
Prediction: Their injuries have them spiraling, which is disappointing for a team that started the season out so well. Their home games are tough and I can see them defeating Golden State and losing the remaining three. Indy on the road is a loss and I again the benefit of the doubt to Detroit at home. That would be a 1-5 finish.
FINAL RECORD: 26-40
Detroit Pistons:  HOME- CHI, CLEV, MINN, TOR, PHIL; ROAD- ATL, IND
Prediction: They have the most favorable schedule, with five home games. I see them beating Cleveland, Toronto, and Minnesota, but losing the rest. So, for this group, they have a "good" finish of 3-4.
FINAL RECORD: 25-44
Toronto Raptors:  HOME- ATL, NJ; ROAD- ATL, MIA, DET, MIL
Prediction: Good news for the Jazz fans–Toronto has a tough schedule to finish, too, with a lot of road games. I see them beating the Nets at home, but losing all the rest, again Detroit wins at home. That's a 1-5 finish.
FINAL RECORD: 22-44
Here's where they stand, based on my prognostications:
(6) and (7) Toronto Raptors and New Jersey Nets tied at   22-44
(8) Golden State Warriors   23-43
(9) Detroit Pistons  25-44
(10) Minnesota Timberwolves  26-40
I'm sure we would all be ecstatic if this all transpired. It actually would give the Jazz the best pick possible. Remember, this is just one person's predictions. We do not know if these teams or their opponents suffer more injuries (real or not), if opponents rest players, if teams fighting for playoff positioning put it all out there, etc. And who knows how the Draft Lottery affects things (Golden State could move to the top three or a team could jump them).
We'll all be watching this play out with bated breath…
Replies: 12
Views: 1494
12 Responses
Leave a Reply
You must be logged in to post a comment.