Posted by: David J. Smith on August 18th, 2012
The author's views are entirely his or her own and may not reflect the views of the Utah Jazz.
Once a Jazzman, always a Jazzman. Each player who dons a Utah uniform becomes a permanent part of Jazz history, and in a way, part of us as fans. We tend to follow most, excluding those who may have burned a bridge or two  during his tenure in Salt Lake City or in his departure. This offseason has been quite busy for our former players. Here is a list of ex-Jazzmen who have relocated:
Devin Harris, Atlanta Hawks: We all know Devin was swapped out for Jazz small forward Marvin Williams. Harris is yet another polarizing figure for some Jazz fans. My thoughts? Devin gave great effort for us and was a key reason we made the Playoffs. While his style did not fully mesh, he had more good games than bad ones. His role in Atlanta seemed undetermined as of yet, with point guard Jeff Teague having a solid sophomore campaign last year. But regardless if he starts or comes off the pine, Harris will be a solid addition for the Hawks.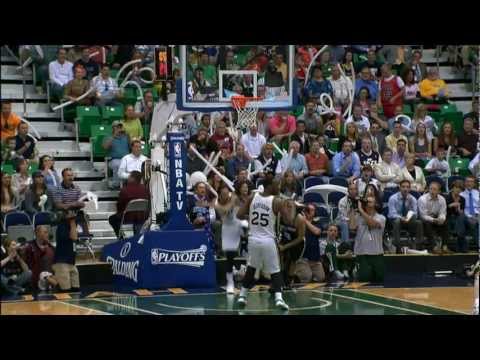 Kyle Korver, Atlanta Hawks: Could Kyle be among Jazz fans' favorites of all-time? His work on and off the court endeared him to us and many still bemoan his leaving. During this offseason, the sharp-shooting swingman was shipped by the Chicago Bulls to the Atlanta Hawks in mostly a cost-cutting move. Korver spent two seasons as part of the Bulls' "Bench Mob," playing in 147 of 148 possible games for Chicago. The Bulls went 112-36 during his time in the Windy City. He has a prototypical Korver year, averaging 8.1 ppg, 2.4 rpg, and 1.7 apg while dialing in on 43.5% of this three-point attempts. He will play a similar role in Atlanta. Having shipped off Joe Johnson and his albatross of a contract, Kyle's perimeter marksmanship will be vital for a team that will need help putting points on the board.
In a game against the Jazz, Kyle reminded us how pure a shooter he is.
Ronnie Brewer, New York Knicks: Ronnie B's team option was declined by the same Bulls front office. It may just be me, but it never felt like he fit in too well in Chicago. His stats took noticeable declines across the board. Brewer did not waste time, inking with the Knicks. This could be a good scenario for Ronnie. While there will be few touches thanks to a roster of teammates who monopolize the ball–Amar'e Stoudamire, Carmelo Anthony, J.R. Smith–Brewer will be able to play to his strengths: running without the ball, playing solid defense, and unleashing the occasional athletic dunk. With Landry Fields exiting, he'll compete for a starting position.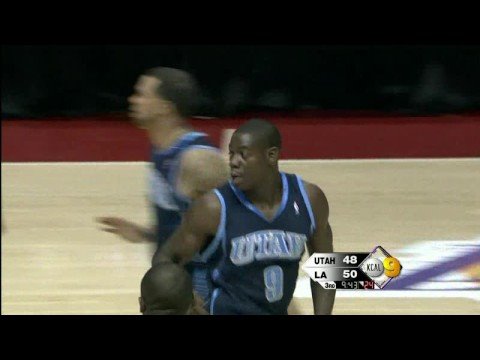 C.J. Miles, Cleveland Cavaliers: I just touched on this move for CJ in a previous post, but I honestly feel like this is a great situation for him. A clean slate on a young team on the rise.
Ronnie Price, Portland Trailblazers: When they signed Price, I don't think the Portland front office realized that he was no longer a Jazz player–they seem to have an affinity for our guys. After four seasons of hustle (and to be fair, some poor shooting and mediocre playmaking), Ronnie moved south to the Suns. He had a nice start with Phoenix, but his playing time waned as the season progressed. He had a very Ronnie-like season of 3.6 ppg and 1.9 apg while shooting 37.7% from the field. Portland's roster is young and Ronnie will be looked to for some veteran presence. My guess is that they will be on the outside looking in for the postseason, but hopefully Price will be given the chance to contribute.
Andrei Kirilenko, Minnesota Timberwolves: AK enjoyed an amazing year overseas, basking in the admiration of his fans and playing like the Andrei of old–a regular jack of all trades. We knew he would probably be coming back and sure enough, he did, signing a two-year, $20 million contract with the "pesky" Timberwolves. He adds a lot of great things to that young roster on the rise–length, rebounding, deft passing, defensive presence, and the occasional outside shot. Kirilenko also unfortunately brings his history of injuries. The price tag seems pretty steep, but rivals similar or lesser small forwards like Gerald Wallace. Minnesota was Playoff-bound for the first half of the season before they transformed into a M*A*S*H* unit. AK could be a piece, along with Brandon Roy, Chase Budinger, and Alexey Shved, that pushes them back to postseason play.
Others:
DeShawn Stevenson, Atlanta Hawks: The Hawks are trying to usurp the Bulls and Nets as Utah Jazz East. Stevenson was merely cap fodder and shouldn't be expected to do much in Atlanta.
Sasha Pavlovic, Portland Trailblazers: He was the beneficiary of some moves, as his "salary" was needed. It's is remarkable in some ways that he has lasted this long. Unfortunately, he never came close to fulfilling his potential as a shooter/scorer in the NBA.
There are a few others who could latch on to a roster: Derek Fisher, Kryrylo Fesenko, Sundiata Gaines, Othyus Jeffers, and even Morris Almond.
And even though he cropped up in the rumor mill several times, Jerry Sloan remained unsigned. It truly would have been surreal for this fan to see him at the helm of another team.
There you have it: the
Replies: 3
Views: 2140
3 Responses
Leave a Reply
You must be logged in to post a comment.