Posted by: David J. Smith on December 5th, 2011
The author's views are entirely his or her own and may not reflect the views of the Utah Jazz.
At long last, here is the second half of my interview with ESPN writer/reporter Chad Ford. My apologies on the delay since the first half was put up (it's best to read that before delving into this). Given the fact that free agency is upon us, training camp starts Friday, and regular season tips off in three short weeks, I think you'll find Chad's thoughts on some very timely topics to be apropos. 
Al Jefferson has been great on some bad teams (Boston, Minnesota) and was excited to come to Utah for a fresh start. Can Al Jefferson be a cornerstone on a contending team or is that in question?
I think it's a little bit in question. I think he's a good player and I think the Jazz got him for nothing. I would do that deal 100 times out of 100 times. Sometimes those are the deals you have to make and then you figure out later what the next step is. I think Jefferson had a better year than people thought he would. There were questions after his ACL tear, whether he was ever going to be the same and I think he had a really good year for the Jazz. He increased his trade value, certainly more than what the Jazz paid for him.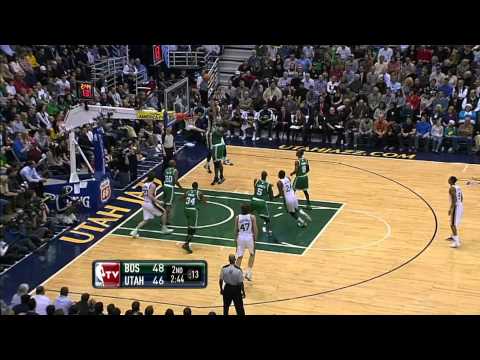 I don't want to say he's an asset because I don't think Kevin O'Connor, unlike some GMs, looks at his players as assets. I think he looks at his players as players and people. But the bottom line is that he is an asset that has increased in value for the Jazz. They did draft Enes Kanter. I think probably thinking long-term, that he will be their big man. And Jefferson is the type of player they could parlay in a number of ways to do something different. In the meantime, he's a really good player.
I'm sure about this: Kevin O'Connor is the most underrated GM in the league. And it's in part because he never toots his own horn. He's not the guy out there trying to get media attention. In fact, he shies away from it, for the most part. But if you look at what he did in the post Stockton and Malone era…where so many teams saw the bottom fall out—they're 10, 11, 12-win teams—and the fans have to go through this terrible rebuilding process. O'Connor has the team still clicking…not championship contender, but still a fun team that can win a game any night, sort of team.
One of the things he savvy at doing is trading players for future draft picks and ones that might pay off in the long-term down the road. A lot of people forget that the Deron Williams draft pick was not their pick. And that the Enes Kanter pick was not their pick. They did not get those high draft picks because they were terrible. They got those picks because of savvy trades. His ability to restock his team without going all the way into oblivion has been part of the success story for the Jazz.
I think losing breeds losing. I think the young players grow up in a toxic environment when they lose that much. They don't really understand what it takes to win in the NBA. His young players have always been in an environment where they do understand what it takes to win. They may not be championship contenders every night, but they're out there competing every night, thinking they have a chance at winning that basketball game.
He's once again taken them through a rebuilding process. They didn't make the Playoffs this year. I think this was a disappointment for them. But they could conceivably be a Playoff team next year. I really believe that. There's a lot of tough competition in the West, but they can conceivably be there and they would not be an easy out any night. As their young players begin to develop, you can only see the curve going up for Utah, not down. That's been the critical thing, for me, for the Jazz.
Almost all the players we've talked about either have a lot of upside left or they're a great asset like a Devin Harris or an Al Jefferson or a Paul Millsap. All those guys, Kevin can pick up the phone now and find 10 teams willing to trade for each of those guys. There's a lot of team that can pick up the phone and find 29 teams willing to take their players. Who's taking Gilbert Arenas or Rashard Lewis? There are a number of players, like Hedo Turkoglu…the Jazz just don't make those kind of deals. And I think that's part of the brilliance there. I don't think fans know what they've got.
I have no idea what Kevin is paid, although I'm sure he's paid well. He could go to bigger markets and get paid bigger money. He's also loyal to the Jazz; there's something he likes about that market. For whatever Jazz fans are unhappy and wish for some sort of change, in a year, they'd be wishing they had Kevin O'Connor back.
Tyrone Corbin filled some immensely big shoes, to say the least. It's only 30 games in, but what do you think he can be as a head coach? He's cut in the mold of Jerry Sloan.
I think it's going to take time. I think the problem with young coaches in the NBA is that the players hold more sway than coaches on most teams. They make more money. When the team starts to go awry, it's easy to blame the coach. It's easier to change the coach than it is to change the players. And the players know that and the coach know that. A coach's ability to assert their authority over players is a challenging, challenging dynamic in the NBA. It's no surprise that when you look at the coaching greats, they've been in the league so long, that for the most part, teams feel like the players respect them. And teams feel like they are more valuable than the players.
Jerry Sloan was like that. Phil Jackson was like that. Gregg Popovich is like that. But there aren't very many. So it's going to be very interesting, because I know that over the years, that a lot of players had problems with Jerry Sloan. Maybe more so than other coaches. He was old school. He was hard on those players. However, all the players understood that between Larry Miller and Kevin O'Connor, there was no way Jerry Sloan was going anywhere. No way. Even with the Deron Williams thing, when it started to crop up, the team supported Jerry. At the end, there was a question mark, I think Jerry felt it was time to go. There was no question that Jerry was not going to get fired from that team. He wasn't.
I actually think that's been a strength for the Jazz over the years. They players have understood that the coach has 100% support. I think Kevin's the sort of guy who will do that with Tyrone Corbin as well. Whether or not he deserves that is another question. Jerry Sloan was the type who deserved that support. He was a proven winner as a coach and eventually he could bend players to his will to play the way he wanted them to play. We'll see whether Tyrone Corbin can do that or not. It's way too early.
I think the Jazz's general approach , if it stays true, will help Tyrone Corbin as a coach. He won't be looking over his shoulder every day, wondering if the Jazz are going to fire him. And the truth is, there is not a great coaching pool out there right now. It's not like there's these guys who are dying to coach the Utah Jazz. And I'm not sure the Jazz are willing to pay $5 million a year, like the Minnesota Timberwolves just paid Rick Adelman to come coach their team. I think the Jazz will give Corbin a legitimate shot to coach this team. We'll see with this system. As you said, he's in the mold of Jerry Sloan. Can he get players to bend to his will like Jerry did? That'll be the question.
Andrei Kirilenko: should he come back or should he go to another team? When some Jazz fans think AK, they think $18 million. Some think the last contract was among the worst in franchise history. At $5-$6 million, would he be a good deal to return?
The first thing, some think this is the worst contract in Jazz history, is that no one said that when they signed him. And no one said it the first year after they signed him. Kirilenko definitely got into a funk. Most people would agree that it was a mental funk. It wasn't based off of ability. If you look at advanced statistics, Kirilenko at the time was a top 10 player in the NBA, based off all the different ways that he contributes. Over the years, even as he struggled, the Jazz realized there were certain things that Kirilenko brought to the table every night, things that contributed to winning. Even when he was in his mental funk, they were hard to quantify. Losing him will be a major change for him, because he's hard to replace. He's hard to replicate.
I think they'll do what they can to resign him. I do think that there are a lot of other teams that value Kirilenko. I think there are teams who wonder if part of the funk was his relationship with Jerry Sloan. And whether if you got him with a different coach and a different mindset, that Kirilenko might blossom in different ways.
I know there's a Russian owner out there that's a pretty big Kirilenko fan and needs a power forward. There are several teams that have a lot of money in free agency that need a power forward. So we'll see. My guess is it won't be that the Jazz want him back. I think the answer to that is probably yes. I think Kirilenko's answer will probably be yes. I think the question is if they will be able to afford to have him back. I'm leaning toward that answer being no.
My guess is that Kirilenko gets more money than you think in the open market. I think Jazz fans will be shocked at the contract that he gets and how much he is appreciated by some of the other teams that have had to play him on a night-to-night basis. They know he brings some unique things to the table.
What is the Jazz's identity, now that they've lost Larry H. Miller, Jerry Sloan, and Deron Williams? A lot of fans wonder what that identity is and who is the face of this team. There are so many unknowns.
Wow. I don't know the answer to that. I think it's the first time in a while, perhaps since right after they lost Stockton and and Malone that they've had to answer that question. Then those faces came. Kirilenko came. Deron Williams came. Jerry Sloan proved he could coach another team. The Jazz's way of doing thing is the thing that remains constant. I don't see Greg Miller changing that culture. I don't see Kevin O'Connor changing that culture. I think the faces have changed.
Losing Jerry Sloan was probably the biggest blow to that, because he was a big part of maintaining that culture. But he and Kevin O'Connor were on the same wave length. And he and Larry Miller were on the same wave length. My early feeling about it, and everyone is feeling each other out, is that Greg is going to continue the legacy of his dad.
Kevin's there as long as he wants to be there. There's been some interest from other teams. Portland's the name that has come out, but I doubt that's the only one, by far. We talked about Kevin and loyalty. This is where you'll really see the loyalty really stick. As long as the Jazz want him there, my guess is that he's there. I think that fans are going to look, the Jazz have a way of running their business and of running their team. They have a way of demanding a certain style of basketball to be played on the court. I don't think they're going to deviate from that just because they have a new coach or a new set of players. That's going to be the constant.
The other thing is, frankly…you live in Utah, you know this. I only lived in Utah a short amount of time. I struggle to find a more rabid fan base. Their fans are going to care. They are going to stick by that team whether they are winning games or not winning games. Whenever teams have to play the Jazz in Salt Lake City, they are going to face a crowd. That matters to team. It really does. They have some pretty fair-weather fans. When things are going well, the fans are there and they are loud and they're great. If they're not going well, they disappear. I don't think that will ever happen in Utah. That disappeared in Detroit and in Indiana. That, I don't believe, will disappear in Utah.
I see a lot of parallels with this Jazz team and the recent Portland and Oklahoma City team, where there is a lot of excitement. But not many people talk about the Jazz. They have a lot of nice young players. And If they don't make the Playoffs, they could have a potential of two lottery picks. They have great assets and already have good players in place. Are they an under talked-about team?
I think they've always been! And some of that is the east coast bias that we know exists. And some of it is big market bias. We're going to talk about the Lakers, Knicks, Bulls and the Miami HEAT of course. We're going to talk about those teams. Even in their heyday, Karl Malone and John Stockton probably weren't given the credit that they would have been given had they played for the Lakers, Knicks, or Bulls. They are always going to fly under the radar. I think that's okay.
The Thunder are a great example of a team that flies under the radar. Then all of a sudden, people look and say 'how did they get good?' If you watch them, you'll see they drafted well. They were smart with their contracts. They have an approach to basketball that Sam Presti instilled. And they're letting that all play out. And you look at Utah and there are a lot of similarities there.
The one difference Utah doesn't have is Kevin Durant. He is, in my opinion, a top five player and a transcendent player. I'm not even sure if Derrick Favors, at his ceiling, and Enes Kanter if he reaches his ceiling and Alec Burks are Kevin Durant. Now, there's other ways to win titles. We saw Detroit win titles with a bunch of really, really good players, but no superstar. That's where you're at right now.
The Jazz had two superstars in Stockton and Malone. And then Deron Williams was a top ten player in the league. That to me is a superstar. I'm not sure that those names are there. That's not a criticism against O'Connor or anyone else. Those are just really hard to get. The Jazz had a really high draft pick in a draft that turned out to be a weak Draft. Had that Draft been this year, the Jazz would've probably walked away with a superstar player. Instead they got a really good player. And that's just the reality of this Draft.
That's going to be the difference. It's always nice when you have that one player that, in the last of the fourth quarter, you can just give him the ball and tell him to 'do it.' The Jazz don't have that guy. But they have such a depth of talent that they're going to be formidable in a very different way.
Well, there you have it. I hope you enjoyed this interview as much as I did. Hearing Chad's insights and thoughts gets me excited, not only for this upcoming season, but the future of our Utah Jazz.
Feel free to follow me for Utah Jazz talk on Twitter at davidjsmith1232.
Replies: 10
Views: 1671
10 Responses
Leave a Reply
You must be logged in to post a comment.