Posted by: Diana on December 23rd, 2011
The author's views are entirely his or her own and may not reflect the views of the Utah Jazz.
The Jazz announced on Thursday at 5:29 p.m. that they traded Memo Okur to the New Jersey Nets.  If you want to see how it was  phrased in their press release you can thanks to Salt City Hoops:
Isn't it nice that we get a 2nd round pick in the year 2015!  We also get a trade exception, which in the Jazz's eyes and many fans eyes makes the trade well worth it.   I understand that basketball is "just a business", I understand that the Jazz save $8 million and I understand that doing this trade gives the Jazz greater flexibility for make future trades.
Our friend Jody Genessy of the Deseret News wrote a great article about the business and personal side of the Memo trade. One thing that stood out to me was what Memo's agent said
Okur did not want to be traded, according to his agent, Marc Fleisher.
Tribjazz on twitter tweeted that Memo was completely caught off guard by the trade.
I know the Jazz don't talk but why not talk to Memo about it beforehand , he has shown great loyalty to the organization over the last seven years.  Yes Greg did call him to tell him about the trade, that was nice of him.
I am crushed by this trade.  I know the rational, logical fan thinks its great. Oh Diana, the Jazz will save so much money, oh Diana its necessary for the future of the franchise, oh Diana, Memo is old, we have a crowded front court. Oh Diana you just don't get it.
I do get it, I get it.  The one problem is that I am not in business with the Jazz, I don't make money off the Jazz or the NBA.  I am a FAN.   I am emotionally invested in the Jazz.  I spend my time, thinking, writing, and tweeting about the Jazz, they are my passion.  To prove how much they are my passion, I kid you not that my daughter's  (who is now seven) first complete sentence was "I love the Utah Jazz".  My daughter's favorite player, Memo Okur.
Memo is also my favorite player, the Memo of old,  Money Memo.   There is John, there is Karl and tied for third would be old Memo and old Deron.  Memo renewed my Jazz fandom.  I have been a Jazz fan for many many years but in the early 2000s my fandom hit a little lull. Its not like during that time, I didn't root for the Jazz nor watch their games, I did but my heart wasn't as invested like it was when I was growing up or how invested I am now with the team.
It was Memo's play and personality that  was what started to get my heart more and more attracted to the Jazz once more.  The Jazz played the 76ers on New Years Eve of 2005.  My husband and I went to that game.  It was a fun game to watch despite the fact that the Jazz were a sub .500 ball club with a record of 14-16.   Memo scored  21 points (three 3-pointers) it was the first time I watched Memo in person, he won my heart.
Memo's loyalty to the Jazz is lost in this day and age of sports.  Memo put it all out on the line for the Jazz in the 2010 playoffs, something I as a fan will never forget.
Memo never complained about starts, or how many minutes he played.  As the longest reigning Jazz man coming into camp this year, Memo could have demanded to start and said he was a "starter, period".  Memo did not make such demands, Memo said he would do whatever the team needed him to do, play fewer minutes, come off the bench, start, whatever would help the team to win.
Memo was clutch.  I can't recall how many Jazz games Memo won for us, but it was more than a few.  Memo was never afraid to take the big shot for the Jazz.   He tipped in a game winner against the Spurs ending a huge drought against them, he  hit clutch 3's and then blocked a  game winning layup against the Pistons in 2008. Memo played excellent defense in the 2007 playoffs against Yao Ming  and hit clutch 3's in game 7 on the road of that series, in the same playoffs he was amazing on offense against the Warriors and played great defense against Tim Duncan in the Western Conference Finals.  Memo was clutch.

And lets not forget that he wasn't afraid to make fun of Kobe: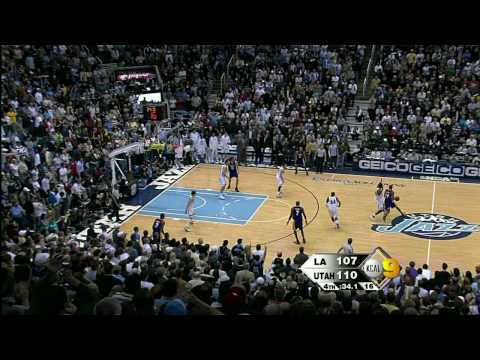 Memo will always be a Jazz man to me.  I will go to the New Jersey game in January  and give Memo the standing ovation he deserves from the Jazz and Jazz fans.   Thank you Memo for  seven wonderful years.
Replies: 17
Views: 1324
17 Responses
Leave a Reply
You must be logged in to post a comment.