Posted by: Diana on February 15th, 2012
The author's views are entirely his or her own and may not reflect the views of the Utah Jazz.
The Jazz are struggling and struggling badly.  The Jazz are  3-7 in their last ten games.  Lately there has been very little to be excited about with this team aside from beating the Lakers last week and the Grizzlies last Sunday.  The wins have been few and far between.
In the last two weeks the Jazz have played nine games. The Jazz have lost 7 of those games.  Losing seven out of nine games makes everyone feel on edge, whether it be fans, players or coaches.
Brian T. Smith reported on the frustrated Jazz after their loss against the Thunder Tuesday night.   Bell and Millsap are most poignant in their comments :
"We consistently do dumb [crap]," Bell said. "We can't even help it."  (Bell talking to Earl Watson at the scorers table during OKC game)

"I don't know that we know who we are as a team," Bell said.

"We've got to figure out what the problem is, first," Millsap said. "Obviously we don't know what the problem is, so we've just got to figure that out. Once we figure that out, we better do something about it."

He added: "It just feels all bad, man. It's not a good feeling at all. We want to try to stay positive as much as possible. But things are just not going right right now."
With players questioning who they are as a team, not knowing their roles letting doubt and frustration creep in, where does the team go from here?
Fans for weeks now (even since last year) have questioned what the identity of this team is, are we fringe playoff team, are we a rebuilding team, who's our leader, do we even have a closer? Heck we don't even have a captain.
When we were winning in January non of those things mattered, they didn't have to matter because we were winning. We were getting contributions from different players all helping the Jazz to win.
The Jazz are no longer winning, is it due to not knowing who they are as a team  or is simply due to a rough spot in the schedule? (though losing to a 4-23 New Orleans team is inexcusable no matter when they fall in the schedule)
Do questions of identity and players roles have to be answered in-order for the Jazz to start winning again?  Or does winning alone answer those questions?
Ty Corbin has a tough test ahead of him.  Ty has to keep this team thinking positively but at the same time address what is going on that is causing the losses.   It is great when players show frustration with losing but when they start to question who they are it can all spiral downward  rather quickly.  The last thing we' d want is for this team to start throwing pity parties for themselves.
One player that is constantly leading the Jazz and taking the positive approach is Earl Watson. His tweets from last night and this morning :
Im far from fragile! We will MAKE THE PLAYOFFS!

Resilience-2 : an ability to recover from or adjust easily to misfortune or change
Hopefully the rest of the players can follow Watson's lead and keep positive and focus on the playoffs. Have that be your goal, remember what you did to win and do it.  Earl a few weeks ago said that "belief is greater than reality and we believe we are a playoff team"
Winning solves all problems,  Ty and the players just need to figure out how to get back to their winning ways.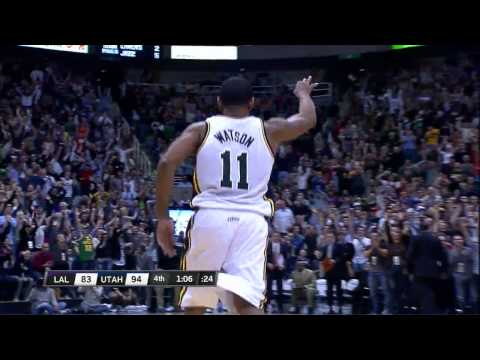 Replies: 9
Views: 748
9 Responses
Leave a Reply
You must be logged in to post a comment.