Posted by: James Seaman on January 29th, 2012
The author's views are entirely his or her own and may not reflect the views of the Utah Jazz.
Saturday night's visit from Jimmer Fredette brought one of the strangest reactions ever exhibited by an NBA home crowd. Equal numbers, it seemed, booed and cheered the former Naismith Award winner and BYU alum. I was honestly surprised to hear Jimmer fans chanting, "We want Jim-mer!" late in a close game and wondered what would have transpired had Fredette made the would-be game-winner (a shot he air-balled) in the closing seconds. Jazz fan on Cougar fan violence, no doubt.
The hype surrounding Jimmer's visit raises another question: Which Cougar or Ute has had the best NBA career? We'll leave Fredette out since he's only played twenty games as a pro. If Jimmer wants to eventually become part of the discussion, he are the players he has to match:
1. Tom Chambers (Utah, 1977-1981)
The four-time All Star scored 20,049 career points, the only baller who played his college hoops in the Beehive State to break the 20,000-point barrier. To give perspective, Jimmer has 176 points in his nascent NBA existence. Among players retried at least five years (the minimum for Hall of Fame eligibility), only Chambers and Mitch Richmond have scored 20,000 points but not made the Hall.  Chambers ranked fourth in the league in scoring in 1990 at 27.2 PPG. That season capped a brilliant four-year stretch where Chambers averaged 24 points and missed just two games out of a possible 328. He's tops the list because he's the only guy on here who, even for a portion of his career, could be considered a bona fide superstar.
Tom also owns one of the greatest dunks in NBA history, leaping from way out and kneeing Mark Jackson in the face (something that will surely delight Jazz fans).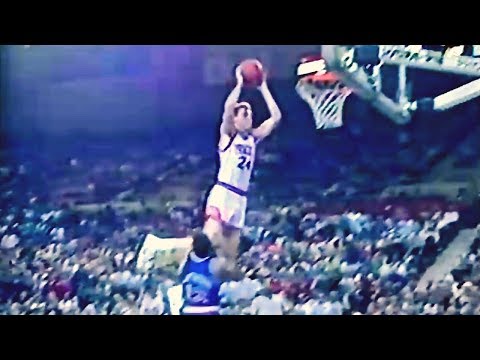 Twice a 2nd Team All NBA honoree, Chambers nonetheless had significant limitations. Chambers had a reputation as a soft defender and never stood out in the facets of the game beyond scoring. At 6' 10", he averaged eight rebounds only a single time in 15 full seasons. The former Ute also reached three assists per game just once. Perhaps the strongest indictment is this: Chambers could never get the Phoenix Suns over the hump and into the Finals, so Phoenix dealt for Charles Barkley and Chambers never started another game in the Valley of the Sun. Barkley got Phoenix to a place Chambers never could. Tom came off the bench that entire 1992-93 season (Sir Charles' first in Arizona) and wound up in Utah a year after the Barkley trade. He was a very good player—the best in the NBA to come out of Utah or BYU—but just a touch short of great.
As a bonus, check out this footage of Chambers dunking on four Boston Celtics…at the same time.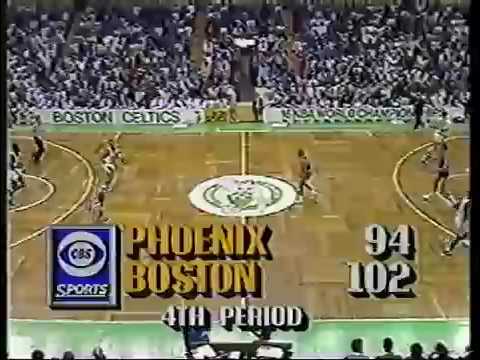 2. Danny Ainge (BYU, 1977-1981)
Danny Ainge's length-of-the-court drive to beat Notre Dame in the 1981 Sweet 16 remains the most celebrated moment in BYU basketball history.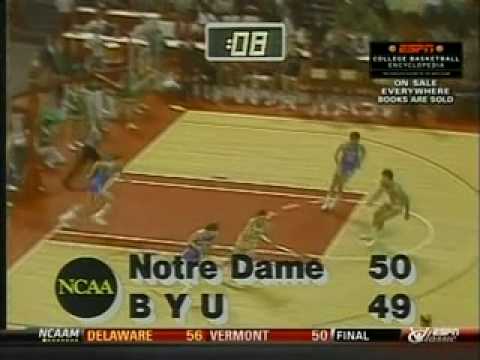 Ainge was a fiery competitor who could certainly work his way under an opponent's skin, like the time Atlanta's Tree Rollins bit Ainge after Danny tackled him to the floor.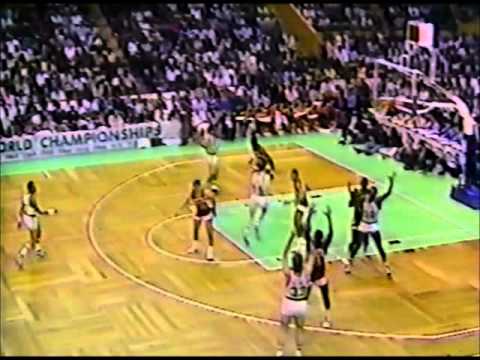 Accused by some of excessive whining, Ainge was definitely guilty of almost contant winning. He played in the NBA Finals six times, winning two championships and competing in 193 playoff games. Ainge missed the playoffs just twice in his 14-year career. Some might argue that Ainge simply benefitted from playing on good teams, but his Wooden Award and run through the 1981 NCAA tournament suggest he had something more. Ainge was never the go-to guy with the Celtics, but he was a full-time starter in Boston from 1985-88, a four year period that included three Eastern Conference titles. That Ainge started alongside Larry Bird, Kevin McHale, Robert Parish, and Dennis Johnson speaks volumes about his caliber as an NBA player.
Individually, Ainge led the league in 3-pointers made in 1988 and five times finished in the top five. He averaged double-digit scoring eight times and made the All Star team in 1988. Ainge also shared some parallels with the man above him on this list—Chambers and Ainge faced one another in college, each entered the league in the 1981 draft, and both played on the 1992-93 Suns team that reached the Finals. Given Ainge's career trajectory—a national player of the year in college—Jimmer can only hope to find himself on great pro teams the way Ainge did.
3. Andre Miller (Utah, 1995-1999)
Like fellow Ute Tom Chambers, Andre Miller was the 8th player taken in the draft (Miller in 1999, Chambers in 1981). He entered the league after a storied career at Utah that included four tournament appearances, three Sweet 16's, two Elite 8's and and a Final Four run that featured victories over defending champion Arizona and a North Carolina team with Vince Carter and Antawn Jamison. In the pros, Miller has proven to be exceptionally durable, missing just 6 games in his first dozen NBA seasons. Now in year 13, Miller finds himself back in Denver, the place where many thought his career would take off. After a breakout 2001-02 season in Cleveland (16.5 points and a league-leading 10.9 assists a game), Miller played one disappointing year with the Clippers before signing with Denver before the 2003-04 campaign. Miller played solid—but never spectacular—ball for the Nuggets. He wound up getting traded for Alan Iverson. For his career, Miller averages 14.3 points and 7.2 assists.
He's a steady, reliable presence. But Miller never became the franchise player I thought he was destined to be after leading the Utes to the NCAA Championship Game in 1998. Miller's inability to become a great outside shooter held him back from reaching the elite level. He's made only 147 three-pointers in his career and never more than 23 in an entire season. Miller also hasn't tasted postseason success like Ainge did—Miller's been to the playoffs seven of the last eight years and never survived the first round. But Miller has continued to plug away, last year averaging 13 points and 7 assists in 81 starts as a 34-year-old point guard on a team that won 48 games. He's also prone to surprising folks like he did to Arizona and North Carolina back in '98, or the time he put 51 points on Dallas, or two years ago with this move that left Ute fans saying, "I didn't know Andre could do that!"
4. Keith Van Horn (Utah, 1993-1997)
Keith Van Horn burst onto the NBA scene by scoring 19.7 points as a rookie for New Jersey in 1997-98 and following it up with a 21.8 average (to go with 8.5 rebounds) in his second season. Unfortunately, Van Horn also missed 28 games in those first two years, starting a pattern that would haunt him throughout a nine-year professional career. Keith missed an average of 18 games a season and never matched the offensive production of his first few years.
Van Horn put up huge numbers at Utah and was runner-up to Tim Duncan for every major national player of the year award in 1997. Appropriately, Duncan went first in the draft and Van Horn second. But while Duncan met—even exceeded—expectations as a franchise player, Van Horn's production declined after those first two seasons. That's not to say he was a bad player. Keith's career averages of 16 points and 7 boards would make him a solid starter on any club. But Van Horn was best suited as a team's second or third option, not its cornerstone and superstar. He played on the 2002 New Jersey team that reached the NBA Finals, averaging 13 points and 7 rebounds during that postseason. Van Horn also reached the Finals as a role player for Dallas in 2006, falling two games short of a championship ring. He ranks behind Andre Miller on this list because of his former teammate's superior longevity.
The most dramatic moment of Van Horn's career remains these back-to-back game-winners during the 1997 WAC Tournament in Las Vegas. (Watch the full clip to see Rick Majerus' vertical leap; also notice that Utah has four future NBA players on the floor for the final play against SMU in Van Horn, Miller, Michael Doleac, and Hanno Mottola).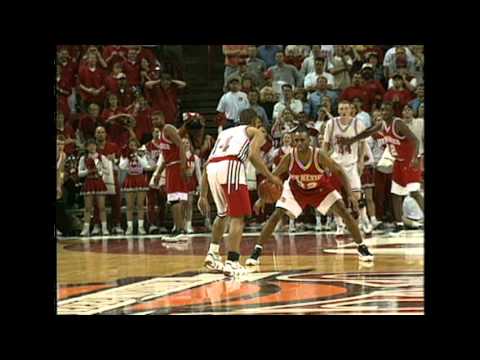 5. Andrew Bogut (Utah, 2003-2005)
If Van Horn was unlucky with injuries, Andrew Bogut is cursed. Since playing all 82 games as a rookie, Bogut has missed 103 contests due to various ailments. That number will increase with every game the Milwaukee Bucks play this season as the Thunder from Down Under recently fractured his ankle. Bogut's enormous talent is seemingly tempered by his propensity for getting hurt. This clip shows the full spectrum—a monster rejection of Shaq, followed by Bogut's ability to run the floor and finish, all while wearing a Hannibal Lecter mask because of a broken nose.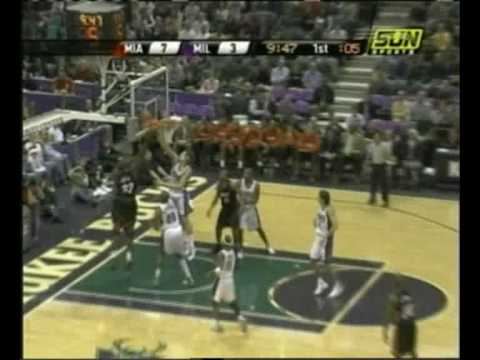 Like Fredette, Bogut was the national player of the year. Unlike anyone on this list, he was the first overall draft pick, meaning he was expected to be the franchise. When healthy, Bogut may not be a superstar but he's pretty close. Two years ago, Andrew averaged 16 points, 10 rebounds and 2.5 blocks. Last year he led the league in blocked shots to go along with 11 boards a game. Despite having the stature of an oak tree, Bogut actually finds himself in the shadows of Deron Williams and Chris Paul, both of whom were drafted after Andrew in 2005. The good news is that Bogut is only 27, meaning he still has time to build on what he's already accomplished and reach the enormous potential that remains unfulfilled. For Ute fans, Bogut is the last link to the Rick Majerus era, recruited by Majerus and then coached in his standout sophomore season by Ray Giacoletti. He's also the last Ute to make the NBA after a period when the program up on the hill sent a steady stream of guys into the pros (Miller, Van Horn, and Doleac for long careers, Hanno Mottola, Britton Johnson, and before them Josh Grant for brief stays).
6. Shawn Bradley (1990-91)
Those old enough to remember Shawn Bradley coming out of BYU are probably snickering. At 7' 6", Bradley apparently had too much height for the Philadelphia 76ers to stay away. The Castle Dale product, who played one year at BYU and went on an LDS Church mission, became the #2 overall pick in the 1993 NBA draft. The Sixers did everything they could to beef Bradley up, putting him on a 7,000 calorie a day diet as Rick Reilly wrote about for Sports Illustrated nearly twenty years ago.
http://sportsillustrated.cnn.com/vault/article/magazine/MAG1138583/index.htm
If Bradley had been able to beef up, maybe this wouldn't have happened to him:

Shawn Bradley never became a dominant force (he led the league in personal fouls in 1994-95), but he did have some productive seasons. Shawn averaged 11 points and 8 rebounds over his first five seasons in the NBA and led the league in blocks in 1997. That was Bradley's best year as he also achieved career highs of 13.2 points and 8.4 rebounds. Unfortunately, Bradley could never escape the "bust" label because he'd been the second overall pick. All this proves is that, once again, dumb teams will make foolish draft picks when height is a factor. Picked in the second round or even late first, Bradley wouldn't be bad at all considering he's 13th all-time in total blocked shots.
Best of the Rest
Apologies to in-state fans of Utah's other colleges, but no one from those schools has done much in the NBA. Ronnie Price has hung around the league as a back-up point guard and won the hearts of many Jazz fans with his hustle. Price's inability to consistently knock down the perimeter shot (39% career FG shooter) means that, now in his 7th season, he still has only 31 starts to his name.
While Harold "The Show" Arceneaux's 36 points in Weber State's 1999 NCAA Tournament upset of North Carolina drew national acclaim, it was Arceneaux's teammate, Eddie Gill, who had the skills to make an NBA roster. Gill played sparingly as a point guard, seeing time in 187 games. Eddie last appeared with Milwaukee during the 2008-09 season, briefly making him a teammate of Andrew Bogut's.
For Utah State, Desmond Penigar found his way onto the Orlando Magic roster in 2003-04, playing a total of 89 minutes in ten games. Earlier that season, former Ute Britton Johnson played 20 games for Orlando. Not surprisingly, the Magic team that employed both Penigar and Johnson won only 21 games.
Where will Jimmer fall on this list when all is said and done, and what other in-state college talent will eventually join him? Hopefully we won't have to wait too long to find out.
Follow me on Twitter @JSeaman34_31
Replies: 6
Views: 895
6 Responses
Leave a Reply
You must be logged in to post a comment.