Posted by: James Seaman on January 25th, 2012
The author's views are entirely his or her own and may not reflect the views of the Utah Jazz.
While millions of Americans watched President Obama's State of the Union address Tuesday night, many of the NBA's GMs and owners gathered in New York for the lesser-known State of the Association. David Stern put his speech on hold to address recent reports finally making their way beyond the Wasatch Front—Utah still has a basketball team. And it's actually winning.
The Commissioner's Office summoned Utah's GM Kevin O'Connor to explain the situation before the league's brass. Thanks to my insider sources, I'm able to bring you a replay of how the proceedings unfolded as O'Connor sat down in the NBA boardroom. (Some—perhaps as many as all—of the following events have been exaggerated, or completely invented, under the guise of literary license).
O'Connor (KOC): (Walking into a packed boardroom) Gentlemen—and I use that term loosely—how is everyone?
David Stern: (Finally breaking a long, awkward silence) Hello, Kevin. I'll get right to the matter—we're all a little perplexed.
KOC: (Furrowed brow) What about?
Stern: Well, when my secretary was filling bottles of tap water to be given out to the attendees as sparkling mineral water, she fell one short. We rechecked the RSVP list and, it's just…well, when we saw your name—uh, it's just that no one has ever heard of you.
GMs and Owners: (Grimly nodding in agreement)
KOC: (Pointing to New Jersey Nets GM Rod Thorn) Thorn knows me. I ripped him off in that Deron Williams trade last February, didn't I Thorny?
Thorn: (Sounding like a broken man) It's true. But the Russian made me do it.
Stern: You mean your owner, Mikhail Prokhorov?
Thorn: No. Kirilenko. He wanted Williams gone so he wouldn't get yelled at anymore for taking plays—and games—off. He said if I didn't do it, he'd—
Stern: (Gasping) Russian mafia???
Thorn: No, he said he'd get his friend Prokhorov to play Masha's music in our offices 24-7 if I didn't do the deal. I caved.
Mikhail Prokhorov: (Bouncing his head to European dance music presumably pulsing through his brain)
Stern: (Wincing and calculating potential revenue lost as a result of another terrible season in the large New Jersey market, then tilting his head toward a closet labeled "Medieval Torture Devices") Thorn, we'll have a private…talk after this meeting.
KOC: (Getting back to the apparent matter at hand) Okay, lemme get this straight—I was called here to verify that I exist and that I'm running the Utah Jazz franchise?
Dallas Owner Mark Cuban: Where's Utah?
KOC: We're near the top of the Western Conference, actually. 10-5 so far.
Cuban: (Pointing to the map on the boardroom wall) WHERE is Utah?
KOC: (To Cuban) How can you not—we have a better record than you!!!
Cuban: (Sneering at KOC) You messin' with Texas? It's time for a merger. CARSLILE!!! Get me Rick Perry on the phone.
KOC: This is absurd. He's going to try and annex Uta—
Stern: You're really 10-5? This is more serious than I thought.
Charlotte Owner Michael Jordan: Who's even on your team, anyway? I bet I could still beat any of them.
KOC: Come on, Michael. We played you last year. Twice. Paul Millsap, Al Jefferson, Gordon Hayward, CJ Mi—
Portland Owner Paul Allen: Gordon Hayward? That annoying writer? The one who's always launching into platitudes and talking about Dr. Feelgood's office and watching football with a stack of ham sandwiches?
KOC: Uh, no. That would be Gordon Monson.
Allen: He plays basketball?
KOC: No. Not on a ten-foot hoop, anyway. He just writes about it. But I'm talking about Hayward, the kid we took out of Butler with YOUR draft pick (pointing to Knicks GM Glen Grunwald). He's a promising star.
Allen: (Checking his wallet) I guess I'll have to offer him a contract then.
KOC: (Looking around the room in disbelief, then noticing his mislabeled nameplate) Hey, you guys didn't even respect me enough to get my initials right. This thing says OKC. I'm KOC.
Stern: No, there's no mistake. That seat was reserved for OKC—Oklahoma City, our new league darling. Their success is all I need in order to stop this incessant whining from small market teams. That's why I've got Kevin Durant's face on every lunchbox in America. I give the franchise free advice too, like my suggestion to sign Russell Westbrook to that max contract. Wasn't that a great idea?
KOC: (Rolling his eyes) For a guy who shot 36-100 with 5 turnovers a game in the Western Conference Finals? Oh yeah, great idea. So, like I was trying to tell you earlier, I'm the General Manager for the Jazz, and we're playing great ball. 10-5.
Minnesota GM David Kahn: (To KOC) Ten wins? Big deal. We won 17 last year.
KOC: That was in 82 games. Seriously fellas, I don't want to put the cart before the horse, but we're thinking playoffs this year in Utah.
Former Indianapolis Colts Coach Jim Mora: (Bursting into the room)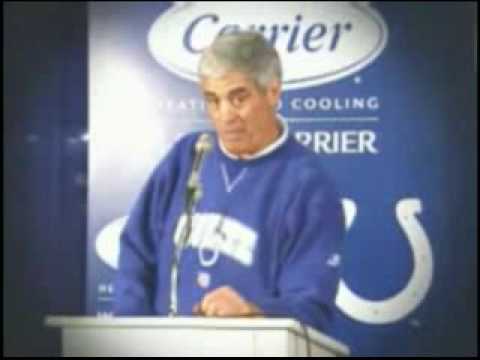 Stern: Sorry, wrong room. He's trying to promote Coors Light as a new league sponsor. Now Kevin, if you're 10-5, we need to request something of you.
KOC: Go on.
Stern: (Pointing to Washington Wizards Owner Ted Leonsis and Golden State GM Larry Riley) They need to borrow some wins.
KOC: WHAT???
Stern: Well, more like HAVE, not borrow. I can't trust them to acquire enough future assets to promise they'll pay you back.
KOC: Let me get this straight—you want me to GIVE wins to Washington and Golden State?
Stern: (Nodding) By my calculations—actually, I had one of my minions calculate this for me—Utah has had exactly two losing seasons in 28 years. The Wizards and Warriors have had only seven WINNING seasons apiece in 28 years. I can't afford losers in big markets like Washington DC and San Francisco-Oakland. Help a brother out?
Clippers Owner Donald Sterling: What about me? We've only had three winning seasons in 28 years.
Stern: Hello? Chris Paul? I fixed that for you already.
KOC: (To Washington's Leonsis and Golden State's Riley) Look guys, you just need to be smart about this. You need to acquire good players and get rid of bad ones.
Leonsis and Riley: (Taking notes furiously) How do we know who to get that's good?
KOC: Scouting.
Leonsis and Riley: (Exchanging confused looks)
KOC: (To Riley) And there's one more thing you need to do this year in Golden State.
Riley: What's that?
KOC: Finish with the 8th draft pick. Just trust me.
Riley: (Nodding)
KOC: (Looking across the table to Bulls GM John Paxson) Well, at least you don't need any help. Nice club you've got there in Chicago.
Paxson: (Smiling) Thanks Kevin. Too bad you couldn't hold onto Boozer.
KOC: How's that working out for you?
Paxson: Fantastically! He's averaging 15.2 points and 8.5 rebounds this year.
KOC: At what cost?
Paxson: $14.4 million. Bargain!
KOC: (Nodding as he thinks about Paul Millsap's 16.6 points and 8.7 rebounds at roughly half Boozer's cost) Bargain, indeed.
Short guy in Lakers hat: (walking over to KOC) Hey bro.
KOC: Who are you?
Lakers guy: I'm the guy who sits courtside at Staples Center and holds up the Jack Nicholson cutout.
KOC: What are you talking about?
Lakers guy: Dude, Jack died about four years ago. But you know Los Angeles is such a soulless place devoid of character, so Jack Nicholson is, like, the ONLY thing we can count on. So we had to keep it going. We were gonna go Weekend at Bernie's-style but decided on a cardboard cutout instead.
KOC: You're lying. I know when someone's lying.
Lakers guy: No, bro, I'm for real. Think about it. Like, what was the last time you saw Jack in a movie?
KOC: (thinking) Bucket List?
Lakers guy: Right! And that was in 2007! That was actually the last thing on Jack's bucket list—making a movie with Morgan Freeman.
KOC: (Shaking his head) I've gotta get out of here. Gentlemen, this has been…
Stern: Educational?
Cuban: Inspiring?
KOC: The strangest hour of my life. I'm heading back to Salt Lake.
Lakers guy: Wait up, man. I wanna run something by you. I know Devin Harris has been struggling and, you know like…how about trading him to the Lakers for Derek Fisher?
KOC: (Nearly blinded by visions of trying to explain his move to angry mobs of Jazz fans with pitch forks, then being burned in effigy, then being burned for real) Nope. Keep him. I've got a plane to catch and a team to run.
Follow me on Twitter @JSeaman34_31
Replies: 9
Views: 1215
9 Responses
Leave a Reply
You must be logged in to post a comment.