Posted by: Joey Parker on December 11th, 2010
The author's views are entirely his or her own and may not reflect the views of the Utah Jazz.
Some people can watch any sport simply for the beauty of the athletic talents in motion. I know many people who can turn on ANY college football game, and be perfectly content. No matter if it's Florida vs. Alabama or Northern Montana vs. Denver University. I'm not that kind of sports fan. I have this need, while watching sports, to having a "rooting interest."
Sometimes, having a rooting interest is easy! Jazz are playing? Easy! Utes are playing? Easy! BYU is playing? Easy, I just root for the other team!
Most of the time though, I have no dog in the race. That's when it tends to get boring for me. With the exception of playoff games and other big time occasions, I have a real hard time watching most sports intently, without the rooting interest. This isn't exactly the case with NBA basketball though. It is, overall, my favorite sport to watch. However, I have still found the need find a reason to have a rooting interest in each game I watch. Normally, this is based on how the game affects the Jazz. The needs of the Jazz outweigh everything else, but sometimes there is a game that has no bearing the Jazz! What am I supposed to do then?
In the case that I am watching a non-Jazz-related game, I use other factors to determine who to root for. This list is the order of my "favorite" teams in the NBA, along with my explanations of the order. The factors I use to determine the order are mostly ridiculous, arbitrary, and in some cases, possibly psychotic. But ya know what? It's MY list! I can do it however I want to! Make your own list! (No, seriously, you SHOULD make your own list in the Comments section!)
My Top 30 Favorite NBA Teams as of right this moment:
1. Utah Jazz: Duh!
2. Milwaukee Bucks: I've always kind of liked this team. I believe they are the first team I saw the Jazz play live, back at the Salt Palace. The mascot is adorable, I love the #fearthedeer thing, and I have to root for my main man, and former Ute, Andrew Bogut!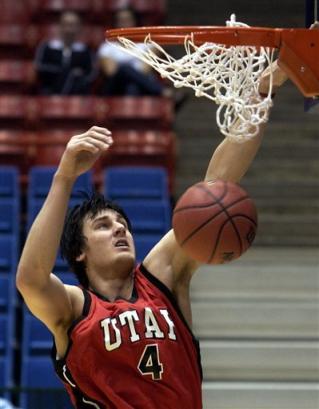 3. Philadelphia 76ers: The unofficial farm team of the Utah Jazz! We have made several trades with the Sixers. We got Hornacek, Harpring, Fesenko, Korver, and Kevin O'Conner from them. I also liked Allen Iverson when he played there and I really like their jerseys and court this year.
4. Detroit Pistons: I liked the Bad Boy Pistons when I was a kid. I love Joe Dumars and I used to love Isiah Thomas. I also think their title team of the last decade is a good blueprint for how the Jazz can win one.
5. New Jersey Nets: I started rooting for the Nets a little bit when they had Keith Van Horn. They are kinda boring nowadays, but I am interested in what this crazy Russian owner will do for them.
6. Toronto Raptors: I own a Toronto Raptors hat. I'm not joking. I got it during the Raptors' inaugural season. Let's just say I was really into Jurassic Park back then. (I also REALLY enjoyed the Vince Carter era in Toronto.)
7. Indiana Pacers: This dates back to the Reggie Miller days. I also like their current coach, Jim O'Brien, and I have to root for Danny Granger since he's a Mountain West Conference guy.
8. Dallas Mavericks: This might seem kind of high for a Western Conference rival, but I am one of those weird Jazz fans who likes Mark Cuban. When he was first an owner, I was kind of annoyed by him, but then I came to realize that if I owned a team, I would be the exact same type of owner as Cuban. I also like Jason Terry and I like Dirk when he's not playing the Jazz.
9. New Orleans Hornets: This mostly dates back to the days of Larry Johnson and Muggsy Bogues on the old Charlotte Hornets. They were a really fun team to watch. Now I like them a little bit because they reside in the original home of the Jazz.
10. Phoenix Suns: Let me tell ya… This team has jumped up about 19 spots in the past 15 years. This was my best friend in jr. high's favorite team, so in my formative NBA years it was always a huge rivalry between me and him with Jazz v. Suns.  The reason they have jumped up so high is Steve Nash. I mean, how could you NOT like Steve Nash?!
11. Oklahoma City Thunder: I should have knocked them down about 20 spots just for screwing over Seattle, but I always hated the Sonics… (I still feel really bad for Sonics fans though.) I have to put them up pretty high though, because Kevin Durant is so darn likable!
12. Orlando Magic: Ummmmm…..I dunno… I like the name "Magic." I also like Grant Hill and Dwight Howard.
13. Golden State Warriors: Have you seen their jerseys this year? They are awesome! They also have great fans, even though the team usually sucks.
14. Boston Celtics: I don't root for them to win the title (unless they are playing the Lakers), since they have PLENTY, but I have nothing in particular against them.
15. Sacramento Kings: They might have been higher on the list because they are another team with great fans, but I still hold some animosity towards them from our past playoff battles.
16. Washington Wizards: I had to put them somewhere on this list!
17. Minnesota Timberwolves: They are so harmless that I can't really hate on them, but Hod Rod didn't name them the "Pesky T-Wolves" for nuthin! They always seem to give the Jazz problems, even when they have a bad team.
18. Cleveland Cavaliers: I dunno…they're just kinda boring. Even when they had LeBron, they were somewhat boring to watch. They also have a dumb nickname and they have always had horrible uniforms.
19. New York Knicks: The Knicks have really fallen down my list in recent years. I used to root for them when they had Ewing, Oak, Starks, etc. in the 90's. I loved when they got past the Heat in the playoffs those years when they had LJ, Houston, and Sprewell. But then, the past decade happened.  UGH!  First, they stole Scott Layden from us (which ended up being a blessing.) Then the Isiah Thomas era happened and then they threw away 3 years just to get LeBron. The fact that their fans were so annoyingly confident that he would go there made me dislike them even more.
20. Charlotte Bobcats: Kind of a pointless franchise, no?
21. Atlanta Hawks: I've always liked many of the players on their teams, especially Nique, but their fans are horrible! They can barely fill half their arena EVEN when they have a good team!  Sad…
22. L.A. Clippers: Another harmless team. The only reason they are so low on the list is that they are a completely pathetic franchise with a horrible owner in a city that doesn't need two teams. Plus….HORRIBLE nickname and jerseys!
23. Chicago Bulls: This ranking is mostly due to bad memories. Lately, they've been much more likable. They also won major brownie points by allowing the Jazz to get a trade exception from the Boozer signing.
24. San Antonio Spurs: I actually like Gregg Popovich and Tim Duncan, but here's the thing: They owe all of their titles to the fact that David Robinson sat out a year with a bad back. If Karl Malone had a bad back for a year, maybe the Jazz would have sucked and therefore drafted Duncan to be their center. Yes, the Spurs have been the model franchise when it comes to scouting the world for talent, but they get fawned over year after year and it drives me nuts! (I never said this list wasn't petty.)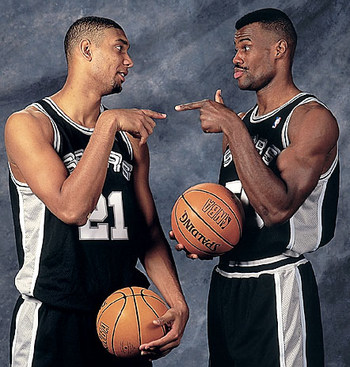 25. Houston Rockets: Ah yes, our old rival. To tell you the truth, I'm just sick of the Jazz playing this team! They were the source of some of our worst playoff losses and our greatest triumphs. Lately, they've been our little whipping boy in the playoffs though.
26. Denver Nuggets: I was always pretty neutral on them because they always stunk. In the past 7 years though, they have become better and have stocked their team with a bunch of thugs. I've never liked George Karl much and their recent batch of players are completely unlikable.
27. Portland Trailblazers: Let's see… They screw over the Jazz 2 straight years by overpaying our free-agents with obnoxiously structured contracts. They used to cheat by stashing healthy players (namely, Bonzi Wells) on the injured list. Their fans are insufferable. And, until recently, they employed a thug lineup almost every year. Besides all that stuff, they are totally likable!
28. Memphis Grizzlies: A truly pathetic franchise. They failed in Vancouver then moved to Memphis and sucked there too. In fact, they sucked so bad that when Hubie Brown finally came in and got them to win a few games, he won COY over a more deserving Jerry Sloan, even though the Grizz were stocked with lotto picks. Then, a few years later, they committed the ultimate sin. They traded Pau Gasol (for nothing) to the Lakers and GUARANTEED a conference rival a 5-8 year window of dominance. Pathetic…
29. Miami Heat: I've actually never liked the Heat; even before this year. I despised Alonzo Mourning and I loved watching them lose in the playoffs in the 90's and 00's. And now that they have the Big 3? I hate them more than ever. It goes beyond the normal rivalry thing. What they have done is to crap all over any sense of competitiveness in the NBA. I am SO GLAD it hasn't gone smoothly for them though. I hope it goes down in flames. If there are Basketball Gods, this team would anger them.
30. L.A. Lakers: Duh!
Replies: 9
Views: 1934
9 Responses
Leave a Reply
You must be logged in to post a comment.