Posted by: Brandon Garside on January 25th, 2011
The author's views are entirely his or her own and may not reflect the views of the Utah Jazz.
I'm sure most of you Jazz fans have been feeling the same way about where our team stands at this point in the season; lousy.  No need to mention the road trip, giving the Wizards their first win against a team over .500,  constant slow starts, like I said, no need to mention those things, we all know.  To ease my pain and get caught up in Jazz nostalgia, I watched the last two minutes of game 6 of the Western Conference Finals back in '97.  I invite you to do the same.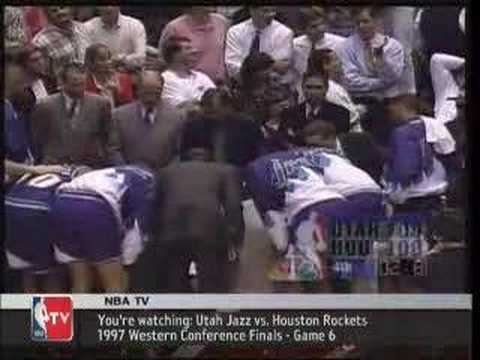 Doesn't that feel good?  Like a refreshing drink of water, we find ourselves temporarily content in the midst of a burning hot desert.  If you watch all the way through, you see interviews with Stockton, an almost crying Malone, and Coach Sloan.  One thing that sticks out to me in the interview with Malone is his mention of trust between his team members.  They believed and had trust.  We all know John and Karl were the leaders of the team in this era.  Did we ever see attitudes like we see with Deron Williams?  Not really.  Don't misunderstand, I love what D-Will has done for us, but currently, his attitude has been nothing but negative, and he's only bringing others down with them.  If the Jazz want to have success, it starts with their leaders leading by example, encouraging their teammates, and building trust.
Replies: 8
Views: 503
8 Responses
Leave a Reply
You must be logged in to post a comment.