Posted by: JC on August 30th, 2010
The author's views are entirely his or her own and may not reflect the views of the Utah Jazz.
Was the Summer of 2010 as wild as you expected? Did the hype live up to the action (well, vice-versa)? There was a time that it seemed like every other team was making moves while the Jazz were standing still.
Oh such padawan learners we've all become have we not? (read it like Yoda would say it).
As fate would have it we didn't stand pat, and over the course of the Summer the Jazz made some moves,  seemingly improving for now, all while preparing for the future too. Where were you as we signed Al Jefferson after a slick trade by KOC? Where were you when we talked Raja out of Kobe's helicopter, were you one of the booers that were in the ESA as the Jazz drafted Gordon Hayward?
Of course some of the strange and wild sentiments we Jazz fans went through were a result of  the speed at which the rest of the NBA were moving to sign up free agents.
And maybe a few of them got it right, and maybe a few teams will even be better than you remember; should the Jazz fail to blow them out, or even, (gasp!) lose to them don't be surprised, don't jump ship my friends – we should be able to see this coming from a mile away.
#1 – The LA Clippers will make the playoffs. Doesn't it sound crazy when you read it, here, try it again: THE LA CLIPPERS WILL MAKE THE PLAYOFFS. Call me a sucker for mainstream media but I'm feeling the rise of Eric Gordon through his Team USA play overseas, they have a good center in Chris Kaman, an exciting PG in Baron Davis (he's not fat, he's just big boned), SG in aforementioned Eric Gordon, PF in Blake Griffin, DeAndre Jordan, Al-Farouq Aminu, Eric Bledsoe, (not to mention that they have a spiffy new website); one could go on and on about potential here.
Sure the Clippers are the red-headed step child of the "California League", but this should be their year to shine (or insert pre-destined fate to continue to stink).
#2 – San Antonio Spurs – Don't let last years sweeping of the Alamo's finest lull you into a sense of relaxation; Tony Parker is back and healthy, Tim Duncan is even older, Richard Jefferson has even more potential to be a black hole on the offensive side while Tiago Splitter brings the old "Twin Towers" attack back to 'Antonio.
But seriously, all tongue-in-cheek speeches aside, the Spurs have the ability to really knock some teams around this year. Tiago Splitter is a big guy, George Hill is dangerous, and James Anderson was a great draft pick. Oh, did I mention that DeJuan Blair is really good? I didn't? Well, here it is: DeJuan Blair is a talent to be reckoned with.
Perhaps the biggest "if" on their squad will be Manu Ginobili. Can the aging star keep it together for one more run through the Playoffs? Or will he over-dramatize the last few flops of his career this season? I suspect he will ride a little more pine this season as we watch George Hill become a superstar, and eat popcorn, wondering why they gave a longer term deal to Richard Jefferson.
#3 – Our "Rivals", the Houston Rockets… For one reason or another, the Rockets have been the "media darlings" of the offseason; seemingly hyjacking their ways into various top ten franchise of the future, top teams, most likely to win the title type of posts and lists from various "big britches" media outlets (see: ESPN, CBS Sports).
Looking at their roster I can see some glimmer of light, while I'm not so sure I'm buying into it, let's go ahead and play a little devils advocate shall we?
Take a look at their starting 5: Kevin Martin, Aaron Brooks, Luis Scola, Yao Ming, Shane Battier. Now their next couple of guys off the bench: Chase Budinger, Chuck Hayes, and Kyle Lowry. Hmmm, well okay, they will bring the tough and hustle like last year. But do they have the talent to own some NBA teams, isn't that what the great teams do? Let's just say TBD.
#4 – Of course I'm going to mention the OKC Thunder, and my God are they a deep team. Just looking at their preliminary roster I'm wondering whom they will sacrifice to the waiver wires for other teams to feed upon. But I am also wondering where their toughness will come from, surely they cannot lean on Serge Ibaka to bring the mean on the court, can they? Collison brings veteran panache, and that is just about it.
At the end of the day it's their youth coupled with athleticism that will push them ahead of the pack.  I'd like to meet Sam Presti, Troy Weaver and the rest of their scouting ranks so that I may shake their hands; have the Seattle Zombie Sonics been revived?
#5 – Milwaukee Bucks. Yes, I just said the Milwaukee Bucks. Though I never imagined I'd be talking about them as a team to "watch out for", here we are, and here I am doing just that. They were busy little beavers during the off season signing veterans to their front line while adding enough youth to be legitimate contenders for several years to come.
Picking up Corey Maggette was a nice move by the team; by adding him, you get a player that will go to the line on a regular basis, and have no fear to commit a hard foul when you need it most.
One glaring weak spot to look at will be their PG spot; sure Brandon Jennings can play 45 minutes a game right now, but what will you do once he has picked up his fifth foul, or turns an ankle – turn to Keyon Dooling and Earl Boykins? Well, let's just pretend that won't happen to them this season.
One final question, what will become of Michael Redd? Can he become a contributor to this team come playoff time, and if so, look out. Long story short; the Bucks have their eyes on deep playoff runs for years to come, anything less would be uncivilized.
#6 – As a long time dis-liker of the "great" Reggie Miller, it pains me deeply to discuss the Indiana Pacers in such subject matter. For the past few years I've been thinking "imagine what will happen if Danny Granger gets a PG to play alongside with", and now, here we are. Darren Collison was acquired via the ever so rare format of a three team trade. Indiana traded Troy Murphy, New Orleans traded James Posey and Darren Collison, while the Houston Rockets traded Trevor Ariza. What did this move do for the Pacers? Well it opened up some more opportunities for Danny to get shots off, which, depending on your school of thought, is never a bad thing.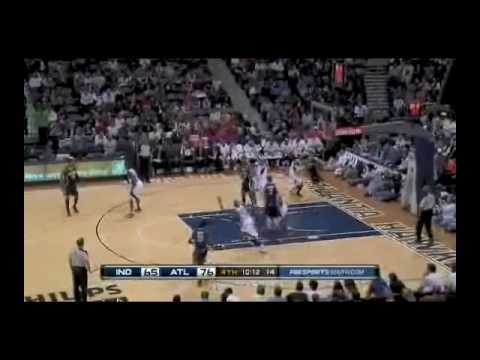 #7 – Did you think the New Orleans Hornets were dead in the water? Well I still do, but, I'm not going to be in the boat of "I didn't see that one coming" when they put up a strong fight at the finish for the eighth seed in the Western Conference Playoff race this year. Not much else to say beyond that (8 > 3).
#8 – Everything is bigger in Texas, well, I'm afraid that the Dallas Mavericks are no exception to the rule with 6 players 6-10 or bigger, they reached out to find more height and athleticism this off season.
Did they succeed? We'll find out soon I suppose.
Now for a couple of puns: On a shorter note, perhaps a bigger story will be the play of their back court – does JJ Barea have another year of improvement, and will Rodrigue Beaubois recover from his foot injury with enough pizazz in his game to supplant JJ and/or Jason Kidd this season. If the answer is yes, then be prepared for the Mavericks come playoff time; a healthy Beaubois + Jason Kidd + JJ Barea is a simple formula that adds to the team chemistry come playoff time.
#9 – Oh Chicago Bulls; you are our Frankenstein – pieced together with bits of Utah Jazz, parts of the draft, but do you have what it takes to challenge the big boys this year? Is Derrick Rose one of the NBA's elite point guards, or does he stand on a tier below Deron Williams?
One thing is for sure they will know our offense when we match up twice this season, but wait, I just thought of another certainty: they won't know how to defend it. Has Carlos Boozer known how to defend in his career? What about Kyle Korver? Notoriously poor defenders while here in Utah, they both did have little glimpses of light this past year, but will it be enough? (check out NBA Playbooks breakdown of Carlos Boozer's defense in last years playoffs)
#10 – Boston Celtics – Washups? Has-beens? Old farts? You name it they have it all on the squad; from a guy that goes by the name of "The Big ___" to Kevin "I bark like a little dog" Garnett this team has a wide variety of …well, old people on it.
Just give me a second here people, if life has taught me anything it is that these are the same old people that will steal your parking space at the grocery store, take that last hard to find GI Joe during Christmas shopping, and likely give you an apple for your trick-or-treating fun instead of that tasty Butterfinger that you were hoping for.
Bottom line is, never take your eyes off of those sneaky old people, they have more tricks up their sleeves than you do TV stations with the Dish Network.
Replies: 18
Views: 4262
18 Responses
Leave a Reply
You must be logged in to post a comment.