Posted by: Lowery Johnson on November 18th, 2010
The author's views are entirely his or her own and may not reflect the views of the Utah Jazz.
During Monday's game with OKC I was chatting with some very passionate friends in the UtahJazz.com live chat room.  It was then when a most odd feeling overcame me….
It's called: FESENKO FEVER. And fellow Jazz fans, it's contagious.
We began discussing his maturity and the changes we've seen in him in just the last year. Suddenly my mind was reeling with all the funny things he's said and the pranks he's been involved with. It was then that I knew it would be a while before my fever broke.
This morning Fes was still on my mind, I went to YouTube to see if anyone else has been infected by this strange fever, and I found this: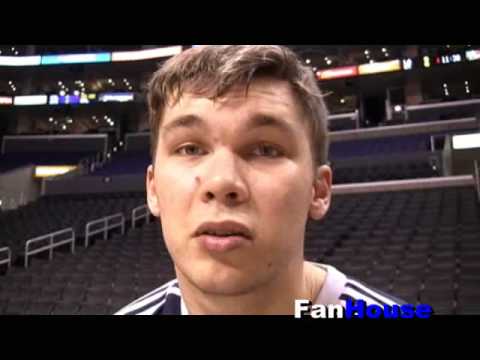 Kyrylo Fesenk0:
Height: 7-1
Weight: 280
Level of Awesome
(based on a scale of 1-10): 10
Not only is Fesenko, in my opinion, one of the funniest players on the Utah Jazz, but I think for a lot of us he was the most impressive in the preseason.  And I continue to love his somewhat limited presence on the court as the season progresses.
For those of you who don't remember, in the nine games of his first season with the Jazz, Fes was shooting 50% from the free throw line, 38% from the field, and averaged 1.6 points per game only playing an average of 7.8 minutes per game.
A couple seasons later and Fes has slowly worked his way into our hearts with his goofy personality (if you're nodding your head to this statement, you are likely infected with the fever).
Then last year's playoffs bounced in. With Okur out, he was our big man. Instead of caving under the pressure of the extra minutes, he stepped up and seized the opportunity to prove himself as more than a funny man.
Here's a short clip that speaks for itself:
His game, like a fine European cheese, has matured.
But unlike a cheese that sits in a dark room to reach its potential, Fesenko put in a lot of work to get where he is.
Over the off season Fesenko not only worked on his free throw shooting, but also dropped 25 lbs coming into preseason training camp. He did really well in preseason scoring 18 points against the Portland Trailblazers.
I had heard the reports of him dropping weight and was impressed, but I was even more impressed when I saw him step onto the court with the seriousness of a professional athlete.
While I don't think by any means his game has reached its peak, I do think we have a lot to look forward to from the Center in the upcoming years, he has the potential to be a great defensive giant…literally.
I've been surprised at his lack of playing time considering his performance during preseason. I would like to see more of Fes coming off the bench. But the season is barely underway and I trust Sloan's instincts more than mine.
Currently, Fesenko's stats haven't greatly improved, but there's something different in the way he carries himself on the court. I see more confidence and more passion in his game.
In the video above, Kirilenko referred to Fesenko as naive, but I'm curious to see if he's saying that now.
In fact, I wonder which of the players on the team have been infected with the fever.
Replies: 10
Views: 167409
10 Responses
Leave a Reply
You must be logged in to post a comment.