Posted by: Ryan Walker on March 3rd, 2011
The author's views are entirely his or her own and may not reflect the views of the Utah Jazz.
I wasn't old enough to remember Karl Malone during the first 10 years of his career, but having seen clips and knowing Jazz history pretty well, I think it's safe to say that Derrick Favors has the potential to become that type of player during his own career. He is slightly taller at 6′10″, weighs 246 lbs, and is probably more athletic at this point in his young career. (see video below)
In his first three games as a JazzMan he has shot a terrific 10-13 from the field, averaging about 8 points a game in only 15 minutes. I understand that he is a rookie, and has struggled learning the offense but in my opinion, having him on the court not knowing the plays is infinitely better than having Elson,or Fesenko out there "trying" to keep up with opposing big men.
With his particular skill set- Boards/Dunks/Athleticism, the coaching staff shouldn't worry about bringing him along slowly or possibly messing with his confidence. Because he isn't a Jumpshooter a la Hayward, whose confidence can be totally shot with a missed 15-footer, there is no harm in letting him play extended minutes and racking up the offensive rebounds, hammering down explosive dunks etc.
I believe that Favors can be molded into an incredible player over the course of his career, he is the youngest player in the NBA and the sky is the limit for an athlete of his caliber. When introduced to the media, Devin Harris made it a point to mention that Favors has a "sweet looking jumpshot" as well. When Karl Malone was talking about coaching, I was a little hesitant- not knowing how the players would respond to his "old-school" approach to the game. Now i believe that the Jazz should bring Karl in solely to work with Favors. If he works hard, listens to coaches, and wants it bad enough, I believe that Derrick Favors will be an All-Star at some point in his career.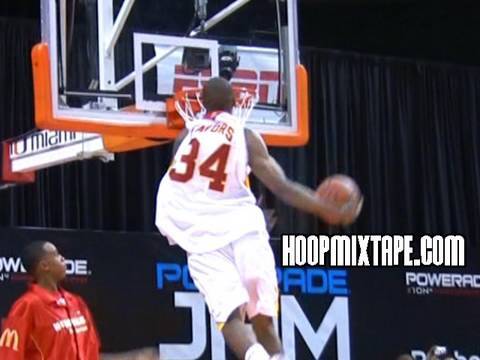 The dunk at 1:00 min is ridiculous!!!
Replies: 9
Views: 817
9 Responses
Leave a Reply
You must be logged in to post a comment.